Wacom Bamboo tablet
Nothing difficult to swallow about this
The Bamboo sports a sleek black frame with matte finish on the drawing area, in contrast to the Intuos' glossy finish. If you're used to an Intuos model, the matte can seem a little coarse, and initially makes the pen pressure appear duller - a problem easily overcome by resetting the pressure to your liking.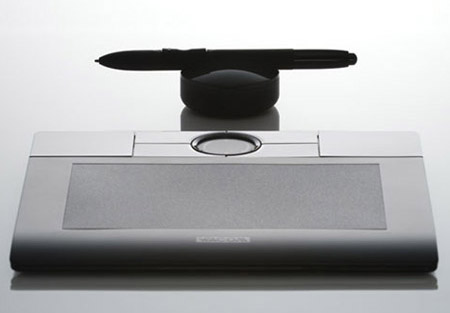 Wacom's Bamboo: the active area measures 14.7 x 9.2cm
The Bamboo has four function keys, which make it easy to set keyboard shortcuts when the keyboard itself is out of range. While this was a useful tool on the larger Intuos models, the size of the tablet makes the keys seem a little superfluous as the keyboard is unlikely to be placed too far out of reach.
The Bamboo has an iPod-reminiscent dial for scrolling and zooming - replacing the two touchstrips on the Intuos 3. It's incredibly sensitive to the touch, and can be a little erratic and imprecise, sure to be an annoyance to even the most steady handed of artists.
Sponsored: Minds Mastering Machines - Call for papers now open