Fujitsu spins out two convertible PCs
Changing your POV...
Fujitsu has unveiled what it claims to be the world's smallest tablet convertible PC, in addition to a new notebook PC with a bi-directional swivel display. The LifeBook U810 mini and LifeBook T2010 convertible notebook are both designed for those on-the-go, and their looks may turn some heads too.
The palm-size U810 weighs about 0.70kg and has a 5.6in LED display that swivels 180° and can be laid flat on top of its QWERTY keyboard, with the screen then operated either by touch or by a stylus. It runs on an Intel A110 CPU and promises to give up to 5.5 hours of computing time with a standard four cell battery.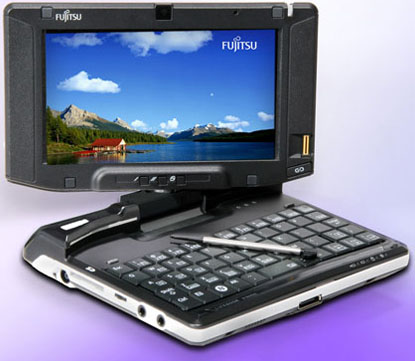 The Fujitsu U810
Fujitsu has also built a 40GB hard drive and 1GB of DDR2 memory into the device, and equipped it with Bluetooth 2.0+EDR and wireless connectivity over 802.11 standards a, b and g. Both models also have a fingerprint sensor for encrypting files with a single, err, swipe.
The larger T2010 model has a 12.1in LED-backlit display and can be operated as either a traditional notebook or as a slate tablet, with a stylus. And in case all that display spinning goes to your head, then the keyboard is also spill-resistant.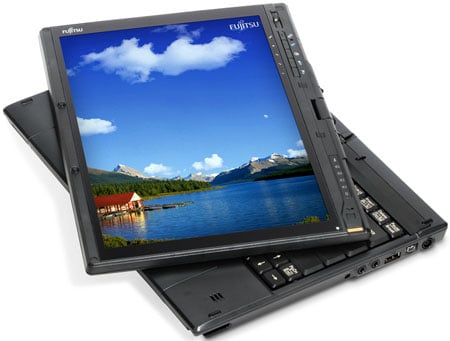 The Fujitsu T2010
The machine is slightly heavier than the U810, at 1.58kg. However, it runs off an Intel Core 2 Duo U7600 CPU, with 4GB of DDR2 memory and is equipped with up to a 160GB hard drive.
Fujitsu's U810 notebook will be available in the US next month for around $1,000 and the T2010 is available now in the US for around $1,600.
COMMENTS
T2010
Are there any actual reviews out there for the T2010? I can only seem to find "reviews" that just list the features and such. No tests or critical analysis.
Resolution / Keyboard / Ports
Sounds interesting: what is the resolution of the display, and how usable is the keyboard on the U810? And what about ports - USB? Firewire? etc. etc. etc.
C'mon, this sounds like an interesting bit of kit for $1000, but you just haven't given any of the interesting details!!!
While we're at it, how about some performance figures?
This seems like a press release, not very well disguised ...
U810
Glad they finally saw sense and included Bluetooth.
Still prefer the look of the Vye Mini. Any chance of a review?