RIM BlackBerry 8820 smartphone
Now with added Wi-Fi
The built in GPS combined with BlackBerry Maps means you shouldn't have a problem finding your way around. Map data is downloaded over the mobile data connection, so if you're not on an all-you-can-eat plan then it could start to become expensive.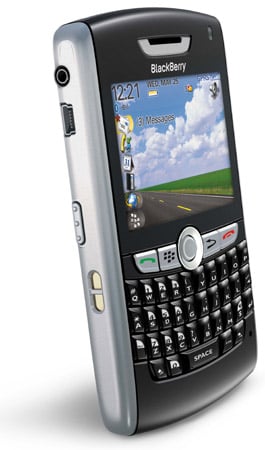 RIM's 8820: GPS navigation included
The media playback side of things has had a slight overhaul, making content-browsing easier. Video playback support runs to MPEG 4 Part 2 Simple Profile, H.263 and WMV, while on the audio front it can handle MP3, AAC and WMA. There is a built in speaker, but for decent audio you'll need to use headphones. To help you get your content into BlackBerry friendly formats, there's a copy of Roxio Media Manager thrown in.
Unlike the Pearl or Curve models, this Blackberry has no built-in camera - although for some overly sensitive corporations this could be seen as a good thing.
Internal memory only stretches to 64MB, but you can expand it with Micro SD cards, including newer, Micro SDHC cards that, eventually, will be available up to 32GB. The slot is situated round the back under the battery cover, though, so it's not exactly easy to get to.
As well as Wi-Fi, there's Bluetooth 2.0 and quad-band (850/900/1800/1900MHz) GSM/GPRS support.
As you'd expect from a BlackBerry, the 8820 includes extremely good support for mobile email. Whether you opt for the business BlackBerry Enterprise Server or consumer BlackBerry Internet Service, once you've got it set up your email will be pushed to the device, so you're automatically alerted to new messages.
Despite cramming in more on technology on the inside, the 8820 is no bigger than its predecessor and still measures 11.4 x 6.6 x 1.4cm and weighs 134g with the battery. Battery life is claimed to be 22 days with five hours' talk time - although this will depend on how much you use the Wi-Fi and GPS. With reasonable use, however, you should get week out of it between charges, we'd say.
Verdict
The addition of Wi-Fi to an already extremely good handset is no bad thing - it's just a shame that it's not as good as it could be. Tying it into to a UMA service makes sense from an ease of use point of view, but the lack of native SIP support means you can't pick and choose your Voip provider. Application support for Wi-Fi isn't quite there yet either, which means there are some teething problems, but these should be easy enough to sort out. Despite some shortcomings, a BlackBerry with Wi-Fi is still better than one without so if you've got the choice then you're better off going for the 8820 over the 8800, as it does everything the latter can and a little bit more.
Sponsored: Minds Mastering Machines - Call for papers now open

RIM BlackBerry 8820 smartphone
Does everything a BlackBerry 8800 can, but with added Wi-Fi...
Price:
From free, with contract RRP