RIM BlackBerry 8820 smartphone
Now with added Wi-Fi
To help get Wi-Fi up and running, there's a wizard to guide you through the process and if you've configured a laptop for wireless access, the 8820 should prove no more difficult than that.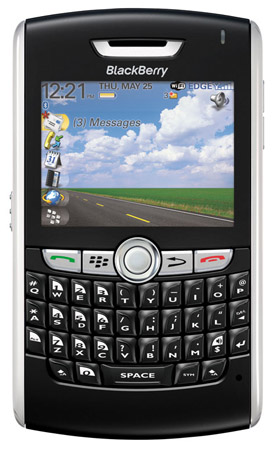 RIM's 8820: Favours UMA not VoIP
When it comes to using Wi-Fi, however, the results aren't as great as you might think - not everything works when you've only got Wi-Fi activated, which is a pain. For example, with GSM turned off and only Wi-Fi connected, the web browser and BlackBerry Messenger applications worked without a hitch. However, Google Talk refused to log in, complaining that the radio was off, and while BlackBerry Maps would start it didn't appear to receive any map data. More importantly, for a messaging device, it wasn't possible to send email with GSM turned off - messages just sat in the message list and were only sent when the cellular radio was switched on again.
These issues could be teething problems since BlackBerry applications haven't had to contend with more than one internet connection before, so hopefully they'll be sorted out shortly with a software update. It could also be the case that applications such as email will work when a UMA service is available, since that appears as an extension of the mobile network to the handset.
Besides the addition of Wi-Fi, not that much has changed compared to the 8800. You get the trackball for navigation, so jumping around the interface is a breeze, and there's a full Qwerty keyboard so tapping out responses to emails isn't a problem. It does take a little bit of time to adjust to the keyboard, but the shaping of the keys minimises mistypes, so you should be up to a decent typing speed with a little practice.
Sponsored: Minds Mastering Machines - Call for papers now open