Boffins build bendy paper battery
A4 will never be the same
Researchers in the US have developed a flexible paper battery which is about the size of a postage stamp. The concept device works like a conventional battery and can pump out around 2.5 volts, enough power to illuminate a small light.
The research team at the Rensselaer Polytechnic Institute in New York claim the design is based on a versatile paper that contains carbon nanotubes, which each act as an electrode. The nanotubes are embedded in a sheet of paper that's soaked in ionic liquid electrolytes, which then conduct the electricity.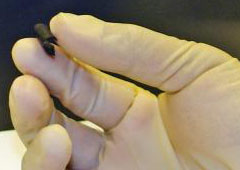 Your flexible friend
The new battery prototype embeds all of its components together into a single structure, whereas traditional batteries house several separate components. It still stores power like a traditional battery, but is also capable of producing sudden bursts of energy.
The research team says the battery can still function even if it's folded, rolled up or cut. It's also said to be more energy efficient than a traditional battery.
Although no specific markets or technologies have yet been targeted, the electronics industry would benefit enormously from such a battery design. For example, portable devices, such as multimedia players and laptops, may benefit in terms of size and weight.
Electronics giant NEC has already invested R&D funds into new battery concepts. It announced in 2005 that it had developed a 0.03cm thick battery, which could be recharged in less than one minute. Also in the same year, researchers in Singapore developed a paper battery powered by urine.
Sponsored: Minds Mastering Machines - Call for papers now open