How to watch TV on your PC
PC as PVR
Most digital tuners will work with the DVB-T (Digital Video Broadcasting - Terrestrial) system that's the backbone of the UK's terrestrially transmitted Freeview free-to-air network. But they're not exclusively Freeview - as there are a small number of tuners capable of grabbing cable and satellite sent content.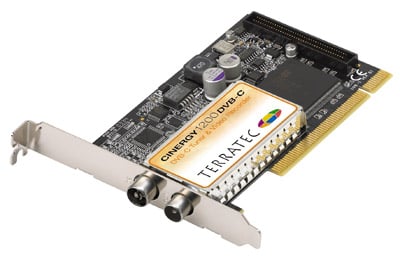 TerraTec's Cinergy 1200 DVB-C cable TV card
Cable looks straightforward: simply install a DVB-C (Digital Video Broadcasting - Cable) tuner such as Terratec's Cinergy 1200 DVB-C PCI card and connect the cable. Your cable company - Virgin Media, here in the UK - only feeds you the channels that you pay for so it probably doesn't much care whether you watch your TV via its own set-top box or through your PC. And you can use your Media Center PC to record content, burn it to CD/DVD, strip out the adverts and stream TV to other PCs around the house.
Across the network
There are a couple of interesting gadgets that you ought to consider as a means of distributing TV around your home - or even across the internet - to a PC. Sony has its LocationFree system, which connects to your home network and uses a wired and wireless transmitter, the LF-PK1, to distribute media around your home and beyond. The base unit is listed at £229 although you'll find it discounted to less than £100, and you have to pay £20 for the software to register each additional receiver, which seems a bit steep. It also contradicts the LocationFree name as it's not free at all.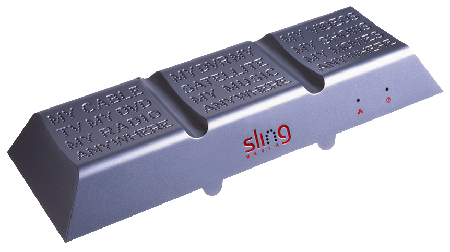 Sling Media's Slingbox: TV for the network
Slingbox from Sling Media incorporates its own digital TV tuner and redirects a selected TV channel to your PC where you view it with the bundled SlingPlayer software. It can take feeds and control other sources too. The trick is that your PC or laptop can be connected via broadband and can therefore be located almost anywhere on the planet. The only downside: only one remote client can connect to a single Slingbox at a given time. However, SlingPlayer also runs on a variety of mobile phones and handhelds, though you have to pay extra for this privilege.
Sponsored: Minds Mastering Machines - Call for papers now open