How to watch TV on your PC
PC as PVR
Feature Watching TV used to be a passive affair: you sat back and watched whatever happened to be on. These days, passivity is passé. Digital Video Recorder (DVR) set-top boxes can pick up programmes beamed out from a terrestrial transmitter, sent via satellite or pumped down a cable and save them on a hard drive so you begin watching five minutes after the show started or at any other time.
You can do all this on a PC too. Getting TV on a PC is just a matter of plugging in one or more TV tuners, either as an internal add-in card or a USB clip-on, and running the control software. While your computer's screen might not be a sharp or as big as the telly in your living room, having TV on your PC does mean you can keep an eye on what's happening in the world while you're at work or at play. It's a doddle to archive recorded shows to DVD, and network connectivity means you can watch on any computer in any room in the house.
Taking this a step further, there's no reason why you shouldn't watch it in the location of your choice so you can watch the latest episode of The Sopranos while you're on holiday in France.
Hardware
Picking a TV tuner for your PC can be a confusing task as you'll be faced with a stack of choices and a host of acronyms and abbreviations. The first choice: analogue, digital or both - the so-called hybrid tuner? When we reviewed HP's IQ770 PC, which uses Windows Vista, we found that the analogue TV tuner provided a handful of fuzzy TV stations that were unwatchable. To our mind, the appeal of analogue TV is past, particularly with the upcoming end of analogue broadcasts here in the UK.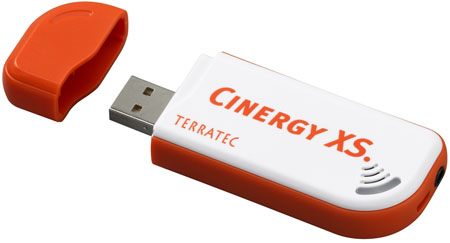 TerraTec's USB Cinergy Hybrid tuner
But here's a thought. TV tuner specialist Hauppauge told us: "Analogue provides two key features: the ability to capture from analogue sources, such as VCRs, and flexibility. USB tuners are often used in more than one place, and digital signals may not be available in all of them."
Indeed, we've used Elgato's EyeTV Hybrid tuner to digitise old VHS tapes that aren't available on DVD.
If you want to watch one digital channel while you record another then you need two tuners. However, there's nothing to stop you going multiple tuners. Windows Media Center is designed to run two tuners. However, we're told that you can hack it to run at least six tuners, should you feel the need. Multi-channel, multi-monitor display system, anyone?
TV on a Mac

Don't feel left out, Mac users. You can do all this TV-on-a-PC stuff on a Mac too. We'll be covering Mac-specific products and procedures in a separate feature soon.
Sponsored: Minds Mastering Machines - Call for papers now open