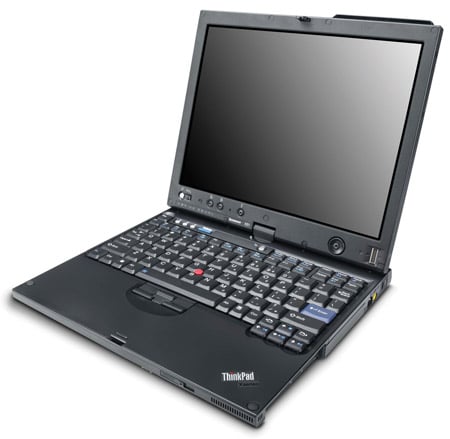 The chassis is made from a magnesium alloy and weighs just 2.02kg
We were disappointed to see that the keyboard illumination LED appeared to be missing from our sample, but it also prompted us to flip the screen around and change to Tablet mode, where a number of notable features stood out. Tablets use a digitiser behind the screen, which is why you need a special Tablet stylus and can't just use the end of a pen or a finger to click on buttons and hyperlinks.
battery test - constant use (in hours)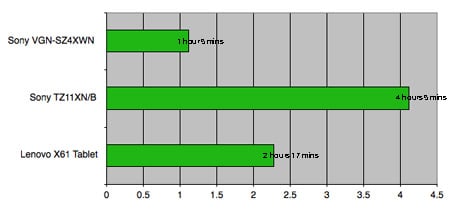 Longer bars are better
The X61 is different from other Tablets as it also sports a touch screen, so when you prod the screen a ghostly mouse symbol appears and the cursor moves around as if by magic. The reason Tablets don't usually have a touch screen is to avoid confusion when you place your hand on the screen so you can use the hand writing feature. The X61 touch screen appears to distinguish a point contact, such as your finger tip and ignores your whole hand, which is rather neat.
3DMark06 benchmark test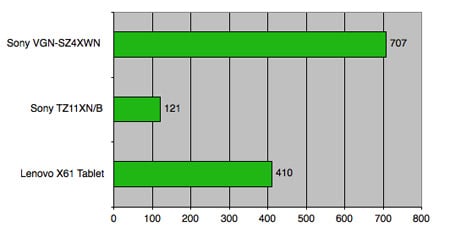 Longer bars are better
There are more control buttons on the Tablet screen than you might expect, including a four-way navigation pad, an Escape button, and a button to jog the display around 90° at a time as you switch from portrait to landscape mode. In fact, this last button isn't strictly necessary as the X61 has an internal accelerometer that judges when you turn the screen. However, it takes a few seconds to make the change.
PCMark05 benchmark tests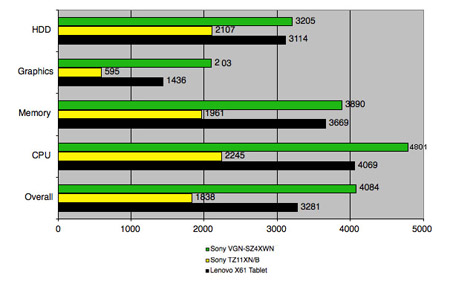 Longer bars are better
Verdict
The X61 is a decent laptop with the caveats that the processor is a dog and the screen is low resolution. Switch it into Tablet mode and it comes into its own, as the screen works well in both portrait and landscape. Added to that, Lenovo has included a number of useful controls that make this the most useful Tablet your reviewer has ever seen. Two problems remain; it's a bit heavy and it's far too expensive.

Lenovo ThinkPad X61 Tablet
Lenovo has updated the X60 Tablet with Intel's latest 965G chipset and Centrino Pro hardware and the result is the imaginatively named X61
COMMENTS
75 percent
You've got to give it to a laptop, which is under spec'ed, over weight, over priced and has an avereage battery life, that can still get a nice 75% rating - which is the same as the Sony that im being told I have to buy up in the top right corner of the site there...
The thing I like most about Thinkpads, is that they have a nice could-survive-a-drop-down-a-flight-of-stairs feeling. I would recommend them to anyone.
Although I have a Thinkpad my ex got me onto while she worked at IBM...so..I might be a bit...biased.
ROTM
Obviously, the second photo shows that Lenovo is in league with the dark ones... a pity you didn't find the laser turrents mounted inside the screen casing yet. No wonder they needed a durable material!
I wonder what would happen if my cat started batting at the mouse cursor on a touch screen...