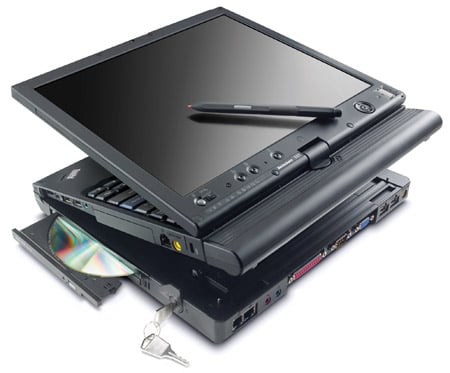 It also transforms into a giant robot. Nah, not really
The regular 4-cell Li-Ion battery has a claimed life of three hours, but our sample had the extended eight-cell battery with a claimed life of seven hours. During testing we got two hours 17 minutes of constant use, which was somewhat less than expected. That figure translates to about 4.5 hours of real-world usage. The third option is to add a second battery to the eight-cell unit, which gives a claimed life of 9.5 hours.
The nature of the swivel joint on the X60/61 Tablet means the Tablet battery is slightly different to the regular ThinkPad unit. One thing missing from the X61 is an optical drive, so you'll need an X6 UltraBase. There are a number of models on sale so you can expect to pay £130 or more, which seems a bit steep when you consider that the X61 as reviewed has a price of £1,800 plus VAT (£2,115 inc VAT). Mind you, we found a very similar model on sale at Dabs (albeit with a four-cell battery) for £1,364 inc VAT, which would appear to be an enormous discount.
You don't get a huge array of ports and connectors on the X61, so in addition to the features we've mentioned there's VGA output, an SD card slot, a type II PC card slot, mini Firewire, and three USB 2.0 ports. The spec says the PC card slot can accommodate a 34mm ExpressCard via an adapter, but there was no adapter in the package. We never expected the X61 to set the world alight with an L7500 processor, but it was depressing how long it took Windows Vista Business Edition to chug into life.
What's more, the Windows Vista Sidebar is an absurd idea on a small 4:3 aspect ratio screen and that User Account Control (which is annoying at the best of times) is especially frustrating when the hardware is so slow. We're quite sure that Windows Vista makes the X61 slower than it would be if it ran XP, but it also brings some benefits.
COMMENTS
75 percent
You've got to give it to a laptop, which is under spec'ed, over weight, over priced and has an avereage battery life, that can still get a nice 75% rating - which is the same as the Sony that im being told I have to buy up in the top right corner of the site there...
The thing I like most about Thinkpads, is that they have a nice could-survive-a-drop-down-a-flight-of-stairs feeling. I would recommend them to anyone.
Although I have a Thinkpad my ex got me onto while she worked at IBM...so..I might be a bit...biased.
ROTM
Obviously, the second photo shows that Lenovo is in league with the dark ones... a pity you didn't find the laser turrents mounted inside the screen casing yet. No wonder they needed a durable material!
I wonder what would happen if my cat started batting at the mouse cursor on a touch screen...