Rackable wraps Al Gore around new storage kit
Disk a landfill can love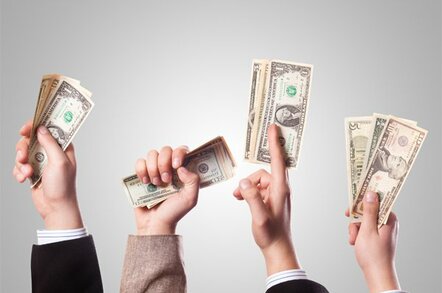 LinuxWorld Rackable Systems has turned to patriotism and Al Goristics to sell its latest line of storage systems. Yes, disk has turned emotional.
The server and storage maker this week started hawking a fresh set of RapidScale systems along with a new expansion box called the OmniStor SE3016. At the end of Rackable's statement revealing the gear, you're told, "Both RapidScale and OmniStor SE3016 are designed and built by Rackable Systems in the United States and are available now for purchase." That' unusual, nationalistic press release material to be sure.
What's less unusual is Rackable's green computing angle. It's new storage systems are Eco-Logical – a fingernails on the brain phrase that Rackable deemed worthy enough of a trademark. How would you use Eco-Logical in a sentence? Let's find out.
"Rackable Systems' unique ability to marry environmentally-friendly designs with a smart, common-sense approach to data center solutions is what we like to call 'Eco-Logical' - a methodology we apply to all our server and storage products as we strive to help reduce the carbon footprint of the data center in a cost-effective and meaningful way," said new CEO Mark Barrenechea.
Meaningful, common-sense, environmentally-friendly. You'd think Rackable was selling learned trees rather than hulking containers packed full of plastic, metal and toxins.
Anyway, the RapidScale line upgrade brings some serious performance improvements. Customers that previously saw around 3.2GB/sec to disk will now enjoy up to tens of GB/sec speeds. Rackable has also pushed through better HA (high-availability) tools such as the ability to failover or failback between Infiniband, GigE and 10GigE systems with no interruption for client software. The company also reckons it's seeing twice the metadata performance and a 30 per cent hike in streaming performance with the new gear.
All of these add-ons come through a new release of the RapidScale operating system – Version 2.2 – which includes a GUI-based configuration manager. This is the first major upgrade to the OS since Rackable acquired the software by buying Terrascale.
Rackable expects to upgrade the actual RapidScale hardware in the next couple of months.
The RapidScale systems rely on Rackable's half-depth box shape for back-to-back mounting, which lets you pack more hardware in a rack while still getting impressive cooling. The systems also use Rackable's DC power technology, although full height and AC versions are available as well.
The OmniStor SE3016 stands as an expansion unit that holds up to 16 SAS or SATA II drives with 1.2GB/sec of bandwidth between the server and storage system. Slap two of these babies back-to-back, you get 32 drives in 3U or 416TB of storage space.
The expansion system will be sold in both DC and AC versions. The DC unit eats up just 305 watts with 15K SAS drives. Should you purchase more power-efficient 1TB SATA II drives when they hit the market, the power consumption could drop to 170 watts, according to Rackable.
Buy one of Rackable's systems for the American polar bear in your family. ®
Sponsored: Minds Mastering Machines - Call for papers now open