LG brings the cinema to your living room
But can it cook popcorn?
LG Electronics has created a home cinema system with enough power under the hood to ensure you could start holding screenings in your own front room. The HT902TB boasts 1000 watts of listening power and is also sleek and stylish to boot.
The system includes four stand-alone tallboy speakers, each dipped in a glossy black paint, and a sub-woofer. An XTS Pro digital amplifier is also thrown in, which LG said will deliver rich and crystal clear sound by creating five virtual speakers to replicate a 10.1Ch sound effect. It reckons this allows sound to travel "more smoothly" around the room.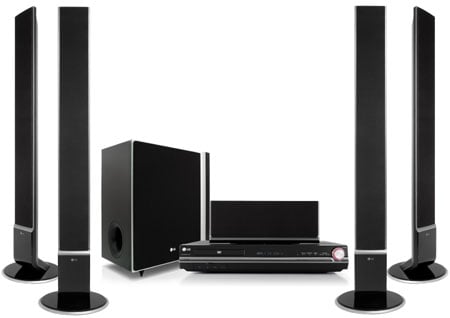 LG's HT902TB home cinema system
The HT902TB's controller unit-cum-DVD player connects to HD-ready TVs via an HDMI cable and provides 1080i resolution, although some only consider 1080p to be the true HD resolution. The unit is compatible with DVD-R, DVD+R, DVD-RW and DVD+RW, but there is no mention of HD DVD or its rival Blu-ray.
Peripheral audio devices, such iPods, can be connected to the unit through its portable audio 3.5 Stereo In jack and it also features a USB port as well. For your other peripheral devices, the unit also supports WMA, MP3 and JPEG files as well.
LG's HT902TB home cinema system is available in the UK now and retails for around £280 (€340).
COMMENTS
Marketing BS
As usual, utter crap audio power quoted. Power consumption is only 110W, easily 10W will be control circuitry, so the quoted power is 10X actual at least!
Often more drawbacks than advantages.
As said above, all-in-one systems often have more disadvantages than advantages unless the technology is stable. However the only real advantages are often cheapness and space saving.
In the product for which were commenting on. By having the speakers(there is no comment if there using standard plugs on 'em) Amp and DVD player all togeather you risk replaceing the whole lot because of a fault or a required upgrade.
For example I have had expensive amps and DVD players over the years break on me, and I can quite happily say that whilst its no fun, at least I was able to spend £120 replacing my DVD player rather than replacing the £650 DVD player and the £800 Amp as it was at the time.
This product happens to be quite cheap, and at some point all-in-ones vs separates become mute.
The key issues when deciding to go for a product like this are:
1. How long do I expect any part of these components to last?
2. Is there any new technology coming that might shorten the life expectancy of the equipments useful function?
3. What benefits do I get from an all on one system ? (a single remote control might be one)
4. Can I add other bits on? (for example does it have AUX in, allowing 'things' to pluged in, in this case yes it seems to)
For the price they seem to be asking, I suspect most people will be quite happy presuming the sound quality's good and robust. As it will give the same sound quality (maybe better) than you get from low end separates. I feel when your looking at over £400 for an all-in-one system you should consider have already considered the alternatives (and done some listening in audio test rooms).
-sin
All-in-one
I hate all in one's. It's a single point of failure and an expensive upgrade. We lost the laser on our HT unit and it was too expensive to replace. So we wound up buying a new A/V receiver and a progressive scan changer. That was last year. Of course, both are hopelessly out of date now.
What kind of HT system would come without some sort of HD player?