Sony VGN-TZ11XN/B laptop
Gimme, gimme. Wait... is that the price or my phone number?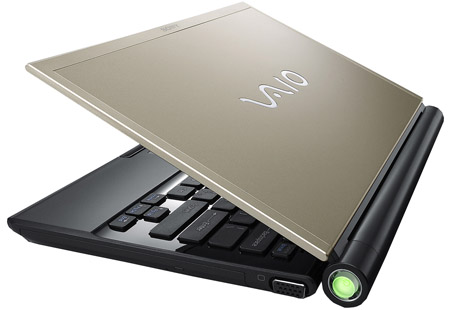 The VGN-TZ11XN/B comes in a range of colours, including this fetching gold
Then we come to the six media control buttons that allow you to play music and movies or to view photos without powering up Windows, as the controls use an instant-on facility that is built into the Bios. In truth, it takes about five seconds to power up, but that's considerably faster than Windows Vista under any circumstances and especially so in the case of the TZ11.
It's bound to be a slow laptop with a 1GHz processor, even if it is dual core, as the low bus speed and slow hard drive all contribute to battery life, but subtract from system performance. The Windows Experience Index figure of 2.0 is fairly pitiful thanks to the Intel graphics, but the other elements only score four marks, which is unimpressive.
Sony hasn't helped as it has chosen to install its standard laptop bundle of software when it is clear that the TZ11 needs all the help it can get - so when you start Windows you may as well go and make a cup of tea.
Once Windows Vista Business Edition has cranked into life you have to endure the Club Vaio marketing puff, which is followed by Norton Internet Security 2007. This is especially annoying as the new Norton 360 has a small footprint, but the 2007 suite is a monster that is an unfair burden on the TZ11.
Sponsored: Minds Mastering Machines - Call for papers now open