Motorola Q 9h smartphone
Will this smartphone eat BlackBerries for breakfast..?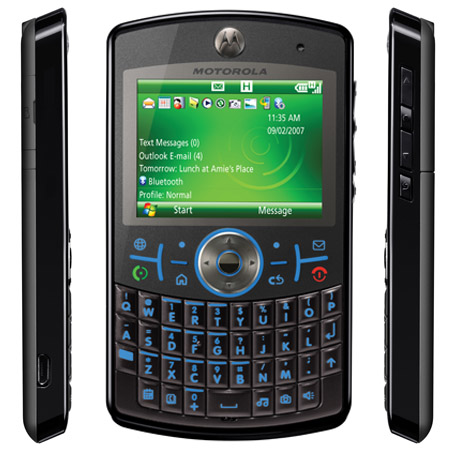 Motorola Moto Q 9h: thinnner than both the BlackBerry 8800 and Samsung SGH-i600
Signing into this service automatically adds those messaging contacts to your address book, allowing you to IM them more easily in the future. One slight niggle was the ability to kill running programs and save power. To end functions that are running in the background you have to do it the old fashioned way, by going to the Task Manager in the System Tools and manually shutting them down. That's a chore when you compare it to something like the HTC Touch phone, which has a one-click command to kill all running programs on the main screen.
While the Moto Q 9h's usability isn't in question, what is worrying are the two obvious omissions from a modern smartphone. First of all, where the hell is the Wi-Fi connection? The Q 9h has the kind of decent-sized keyboard and viewable screen that makes it ideal for logging on without bothering to power up your PC.
It currently connects using Quad-band GSM/GPRS/EDGE; UMTS 2100, and has HSDPA capabilities built in. HSDPA eventually might make up for a lack of Wi-Fi connection, with its theoretical download speeds of up to 3.6Mbps.
But RIM has already announced its plans to add Wi-Fi into the BlackBerry 8820, while Samsung has got there already with the SGH-i600. The other big omission is a lack of GPS satellite technology. With Nokia planning to build this into every phone it puts out – smartphone or not – pretty soon any device that doesn't come with it as standard is going to look like it was fashioned out of wood in the dark ages. You'll be better off with a BlackBerry 8800 if you need this feature.
The decision to use the Motorola MicroUSB connector rather than the standard mini-USB connection is also a tad annoying. With so many devices using mini-USB, chances are it would have saved you doubling up on the leads you have to carry around. Where the Moto Q 9h performs surprisingly well is in its entertainment functions. Video plays well on the screen, supporting a variety of formats such as MPEG4, WMV, H.263 and H.264 video.
Sponsored: Minds Mastering Machines - Call for papers now open