IBM to win $200m supercomputer contract
Internet oopsie-daisy ruins the surprise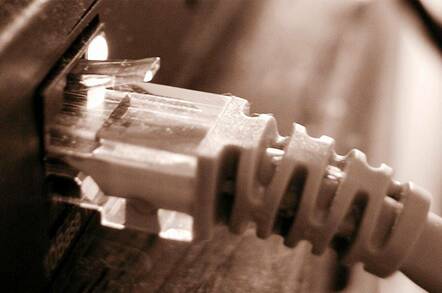 The National Science Foundation will award IBM a $200m contract to build one of the world's fastest supercomputers, but don't tell anyone because it's a secret.
Or at least it was until The New York Times spilled the beans after documents were accidentally posted on a government web site last week. Now there won't be a wild $200m Science Foundation surprise party, and the guy who makes giant novelty checks is out of yet another job. Must everyone suffer?
Perhaps not the National Center for Supercomputing Applications at the University of Illinois at Urbana-Champaign, where the monster will be built. The spoilsport Times reports the machine is expected to cost $200m to build, but will require to be fed more than $400m over its five-year lifetime.
But we aren't talking about an overgrown Speak & Spell here. The machine will be capable of a petaflop — that's one thousand trillion mathematical operations per second — that's a lot.
The government web site removed the details about the contract after they were ever so briefly available online. The National Science Board must first approve the contract before anyone starts moving silicon.
Most scientists shouldn't get too excited about getting their grubby mitts on this one though. The machine is intended for the Pentagon's Defense Advanced Research Projects Agency. While many supercomputers in the US serve a wide community of academic researchers, this one will handle a few specific Grand Challenge science projects, such as simulating global warming.
The June Top 500 list of supercomputers places the IBM BlueGene beast at DOE's Lawrence Livermore National Laboratory at the current top system for the fourth straight time. The system reached a benchmark score of 280.6 teraflops — which is frankly, still a lot of flops. ®
Sponsored: Minds Mastering Machines - Call for papers now open