Sony recalls 350,000 cameras
Out of the fire and into the meat slicer
Sony has announced a recall of 350,000 digital cameras. But there's no need to reach for your fire extinguisher, because this time the recall is focused on the metal casing of one model that has the potential to cut or scratch users.
The problems surround the Cyber-shot DSC-T5 camera with serial numbers between 3500001 and 3574100, which was released in 2005.
Sony has discovered that the bottom of the camera's metal casing may peel and warp outwards, resulting in "slight" cuts or scratches to the skin.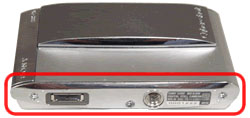 The guilty area on Sony's Cyber-shot DSC-T5 digital camera
The firm has admitted that the problem is caused by an irregularity in the strength of the adhesive used, and has offered to pay for the replacement and shipping of the part for anyone affected.
Japanese customers have already been affected, and a Sony spokesman admitted that about 30 people from the country have been hurt by the faulty case.
So far the recall is known to have involved around 284,000 cameras in the US and about 66,000 in Japan, but Sony has not mentioned recall figures for cameras in Europe.
The recall is yet more bad news for Sony, which has already been implicated in several recalls of thousands of laptop batteries because of worries over them bursting into flames. In April, Acer's US operation announced that it had asked 27,000 customers to return Sony-made laptop batteries.
Sponsored: Minds Mastering Machines - Call for papers now open