Nokia's New Coke moment?
The Communicator software debacle
In 2002, with the launch of the first Symbian-based Communicator only months behind it, Nokia laid out a grand roadmap to ensure the Communicator would set the standard for mobile enterprise computing in the decade ahead.
It teamed up with Psion, which unbeknown to most of its loyal fanbase, had decided to re-enter the business of designing and selling PDAs and phones - only this time carefully targeting the enterprise market. Psion developed the user interface, codenamed Hildon after the bottled water, on which Nokia would base a range of Symbian products.
Psion itself intended to knock out RIM by producing a Revo-like communicator that did first-class push email. This UI supported a pen interface, which Nokia's Communicator range had never had. The two companies planned to launch products in early 2003, with a pen-based Communicator as Nokia's showpiece.
But as so often in recent years, corporate in-fighting at Nokia led to a review, and weeks from announcement, the Hildon Communicator was cancelled, causing great dismay in the company.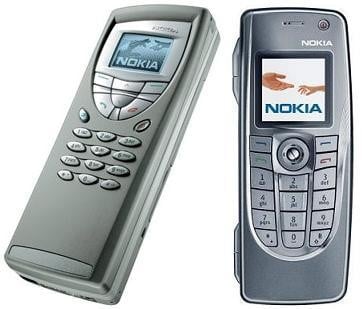 Nokia 9200 (2001) and the much smaller 9300i (2006)
Two tablet phones based on this work were eventually launched, the 7700 becoming a test vehicle for Nokia's mobile TV work, and its successor the 7710 in early 2005. Today, the user interface lives on almost unchanged, in Nokia's promising Linux-based Tablet, and the (now) open source user interface API still bears the Hildon name.
Instead, Nokia gave minor tweaks to the Series 80 UI that had debuted in the 9200, and in February 2004 pushed out a much-improved "brick". Hot on the heels of this came the announcement that Nokia had miraculously shoehorned this into a smaller, slimmer design not much larger than its venerable business phone of the day. That was the 9300, and a year later the final Communicator tweaked with the addition of a better battery and Wi-Fi made it to market.
However, corporate disorganisation - remember that Nokia's Enterprise division has never turned a profit - had struck again. Nokia gave up the pretence of supporting the orphaned Hildon user interface, but also said it would standardise all its phones on Series 60. That made sense from a marketing perspective, and most people expected the rich UI to become a subset of Nokia's principle smartphone platform. Hardly anyone expected those features to be jettisoned altogether. But that's where we are today.
Classic marketing mistakes #94: Buzz marketing
I've called it the "Cargo Cult Communicator" because gadget-fans, who aren't its core market, are the ones who enthuse the most.
The most charitable explanation is that Nokia has taken a cynical approach to marketing what it surely knows is a severely weakened product. It has tried hard to create "a buzz" among gadget enthusiasts on tiny phone blogs - but it's a strategy that is backfiring disastrously with the people who should be buying the phone, business users. Phone bloggers tend to love shiny new objects, and their coverage reflected through their nauseous "unboxings", reflects an infantile celebration of the packaging, while ignoring the real utility of the product.
These "unboxings" make us all a little more stupid.
Sponsored: Minds Mastering Machines - Call for papers now open