Alienware Area-51 m9750
It's a laptop, but not as we know it...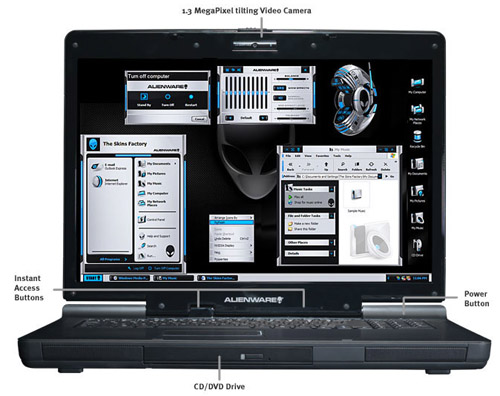 The outside lid features the traditional Alienware ribbing and glowing blue Alien head - whether you think that's a good thing or not is down to personal preference. The inside of the lid is surrounded by gloss black plastic, while the main body and outer lid are finished in matt black plastic that has a rubberised feel. While the finish looks nice at first, it is very susceptible to greasy finger marks, which show up quite prominently on the casing.
The keyboard is large and pleasant to type on - with big keys you would expect to find on a full size unit. There's also room on the right for a numeric keypad, although this does mean you're typing slightly off centre, but it's not a major problem.
The m9750 isn't short on ports and connectors - on the left hand side you'll find two USB and a mini-Firewire socket, gigabit Ethernet port, SD/Memory Stick card reader and Express Card slot. On the right there's another USB port, optical audio out, analogue surround sound connectors, headphone and microphone sockets, and a volume wheel - although you need to turn the wheel a fair way to adjust the volume significantly. On the wireless front, it has both Bluetooth and 802.11g Wi-Fi.