Samsung expands snapper series, again
Shutter, not trigger, happy
Samsung shows no signs of slowing down its compact digital camera development schedule. Today in London, the company unveiled three new models under its existing NV series and unveiled the latest addition to its "i" snapper series.
The NV8, NV15 and NV20 are described as "premium compact cameras" and feature an 8, 10 and 12-megapixel capability respectively. Each also has a 2.5in LCD screen and measures 9.6 x 6.0 x 1.8cm.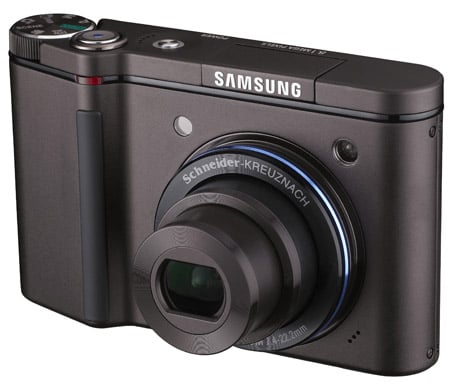 Samsung's NV8 digital camera...
All three models offer a 3x optical zoom and maximum ISO 3200 sensitivity. 20MB of internal storage is provided, though each has a slot suitable for SD and MMC cards of up to 2GB, and SDHC cards of up to 8GB. The NV20 has a maximum image size of 4000 x 3000 pixels, while the NV15 and NV8 have slightly lower maximums of 3648 x 2736 and 3264 x 2448 pixels respectively.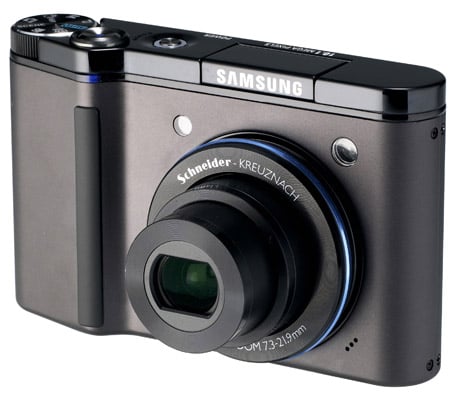 and the NV15 model...
Samsung has also built in a feature called Auto Contrast Balance, which enables each of the cameras to compensate for the brightness of a shadowed subject with a rear light source. A total of 14 pre-programmed scene modes are available, including one that can capture movies at up to 640 x 480 resolution in MPEG-4 and at a rate of 30 frames per second .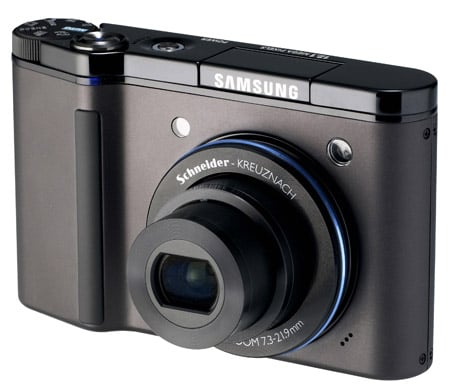 and finally the NV20 model. No, you're not seeing double. All three are near identical in appearence
The i85: yet another consumer product preceeded by 'i'L83T model, measures 9.5 x 6.1 x 2.0cm and provides 8.1-megapixels. It has a respectable maximum ISO 1600 sensitivity and a surprisingly large 3in LCD touch screen.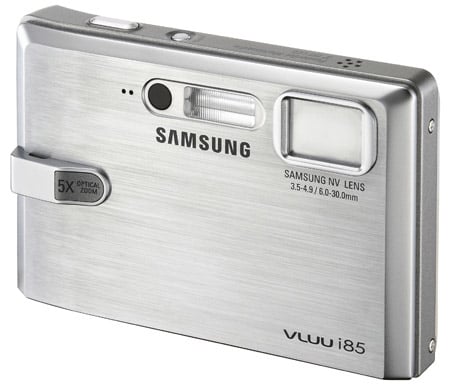 Samsung's i85 model: yet another product preceded by an "i"
A nice feature is its inbuilt MP3 player and Tour Guide, which the company describes as a guide that provides users with access to travel information for 2,600 regions across 30 countries. So there's no need to carry your TomTom around on your holidays and additional maps can be downloaded from the internet, for which there is 450MB of memory. Although the camera supports SD, SDHC and MMC memory cards too.
The i85 also includes the three N series models' 14 scene settings, such as night and portrait, together with a 5x optical zoom and maximum image size of 3264 x 2448 pixels.
All three N series Samsung cameras will be available in September, with the NV8, NV15 and NV20 retailing for £200 (€296/$410), £230 (€341/$464) and £250 (€370/$507) respectively.
The i85 will be available at the end of August for £229 (€339/$470).
Eairlier this month Samsung also annouced a bulk release of four digital cameras, all aluminium-clad and ranging between 7- and 8-megapixel models.
COMMENTS
have you tried it?
Samsung seem to release an aweful lot of products lately, all of which tick the right tech boxes.
I tried one of these recently and found the interface very difficult, and the features lacking (although I'm used to an Ixus).
Samsung need to spend some time listening to their users rather than bringing out ever newer and shinier products, maybe then some of them would live up to expectations. I notice one of the cameras has an MP3 player built in, I hope it's better than the one in my phone which supports ONE playlist of (MAX) 20 songs!
J, buying an SLR for a little more money would be pointless since these are compact cameras. SLR cameras are for photography, compacts are for memories and nights out.
little thing...
"together with a 5x digital zoom"
The photo of the i85 says 5X optical zoom... not sure how good that would be with a lens that tiny anyway.
And for about $100-150 more than the NV20 you can buy yourself a nice enough entry level DSLR from Nikon (D40) or Canon (XT). No brainer compared to the NV20, if you care about photo and don't mind the size of the camera...
And For Their Next Trick...
They'll put a mobile telephone in! Da da!
Calendar, ToDo, calc., radio, games....