Panasonic zooms in on HD camcorder market
High definition and highly portable
If you're already besotted with high definition content and have the whole technical set-up, including an HD TV with Sky subscription, then your next step could be an HD camcorder. At least that's what Panasonic is hoping, as it has unveiled two new tiny models.
The HDC-SD5 measures 6.6 x 6.6 x 13.4cm and the HDC-SX5 is only a fraction larger. Both are extremely similar in their technical capabilities, recording video at 1920 x 1080 resolution into the Advanced Video Codec High Definition (AVCHD) format and then onto an SDHC or SD memory card. The SX5 also has the advantage of being able to record onto internal 3in DVD discs too, which accounts for its slightly larger body.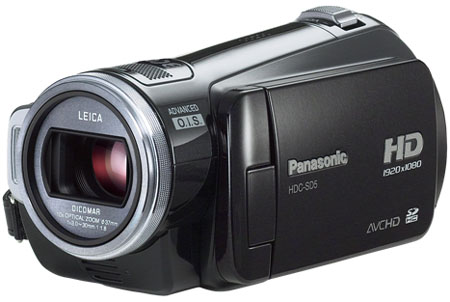 Panasonic's HDC-SD5 camcorder...
Each camcorder has a 10x optical/700x digital zoom and a 300,000 pixel LCD display, capable of providing a 170° viewing angle both horizontally and vertically.
Panasonic has built its Pre-Rec technology into both camcorders, which it claims helps users overcome missing those golden moments by recording the first three seconds of video footage onto buffer memory and ensuring that everything is stored from the moment record is pressed. An image stabilisation feature, already common in digital cameras, is also built into both models.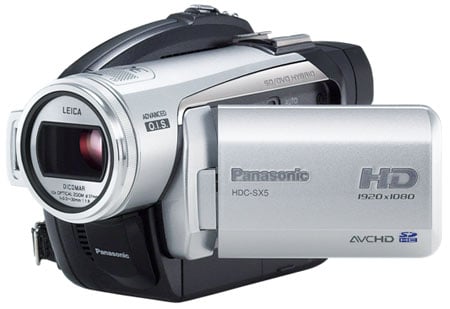 ...and with similar specs, the HDC-SX5 camcorder
However, both differ slightly in their ability to transfer recorded content into another format because while the SD5 can be connected up to an optical DVD burner via USB 2.0, and then burn ACVHD content onto a DVD. The SX5 can internally transfer data from its memory card and then onto DVD disc.
For those who haven't quite got to grips with full-HD AVCHD format though, which Panasonic states is suitable for playback in a Blu-ray drive, then both camcorders come with video editing software that allows content to be manipulated and then alternatively saved into standard definition DVD video format.
Both products will be available in Europe this September. The HD-SD5 will retail for around $1000 (£550/€700) and the HD-SX5 will retail for $900 (£455/€630).