Europe's floods and fires snapped from space
All looks rather small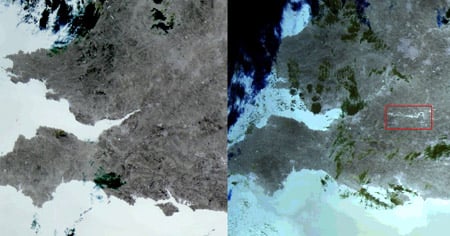 The Thames bursts its banks: ESA
The flooding in the UK is visible from space, and the European Space Agency (ESA) has the pictures to prove it. The agency's earth monitoring Envisat satellites have also snapped the fires raging across much of southern Europe.
The flooding in the UK is the worst to hit the country in 60 years, with hundreds of thousands of people being cut off from water and electricity supplies by the rising waters.
The effect on the nation has been dramatic, and the cost enormous: official estimates are that the damage will cost the insurance industry at least £2bn. The clean up is expected to take months.
But from space, the pictures of the Thames bursting its banks last Wednesday are oddly underwhelming, tiny on the scale of a planet.
Similarly, the lethal fires burning in Italy and Greece look like small puffs of smoke drifting over an otherwise serene Earth. The scale is hard to grasp.
The Abruzzo region in Italy (pictured) has been one of the hardest hit, according to the World Wildlife Foundation (WWF). The group says some 4,500 hectares of protected land have been ravaged by the flames in the last three weeks, with strong winds frustrating firefighting efforts.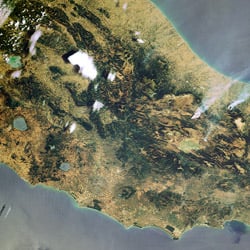 Italy aflame: ESA
Satellite images like these are increasingly useful for co-ordinating emergency response, ESA says, because the images give officials the kind of overview of the extent of the flooding that is hard to get from the ground.
Back in 2000, it set up the International Charter on "Space and Major Disasters", along with French space agency CNES. The idea was to give free emergency response satellite data to those affected by natural disasters anywhere in the world. Last week, the UK asked for help from the charter. ®
Sponsored: RAID: End of an era?