Samsung parades 30in screen with DisplayPort
Another reason to dig yourself an arse groove
Samsung has raised the bar for LCD display resolutions giving square-eyed screen-addicts another reason to drool uncontrollably. It has unveiled the world's first 30in LCD display, capable of providing a 2560 x 1600 resolution through the next-generation DisplayPort video interface.
To provide such high resolution, the screen's DisplayPort interface, transmits graphics data at 10.8Gbps - more than double that of current transmission speeds. The screen incorporates a single DisplayPort interface, instead of two DVI ports, and has been referred to as a potential replacement for DVI and LVDS, which have data transmission speeds of 1.65Gbps/lane and 0.945Gbps/lane respectivly, and VGA.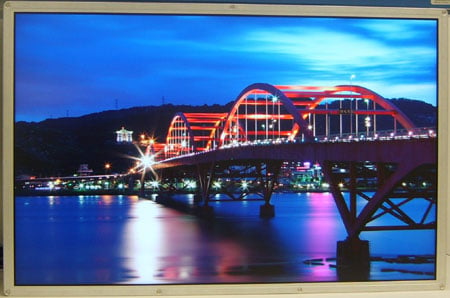 A screen shot of what Samsung claims its 2560 x 1600 DisplayPort LCD could look like
This 10.8Gbps transmission speed means DisplayPort, which has already been sanctioned by the Video Electronics Standards Association, can trash current HD standards of 1920 x 1080. Despite the high transmission speed though, Samsung claims that colour smear won't be a problem.
The LCD screen is capable of producing 1.07bn colours, which Samsung claims would usually require at least three DVI or four LVDS interface chips.
But the resolution revolution doesn't stop there, because the screen's additional capabilities include a 6ms response time and a viewing angle of 180° that should be enough for the whole family to bask in the set's glowing 300cd/m2 brightness.
The DisplayPort-enabled 30in screen is expected to be released by Samsung at some point during 2008, but pricing is yet to be announced.
Sponsored: Minds Mastering Machines - Call for papers now open