Oki mobilises iris scanner software
Whole new meaning to eye phone...
Oki has been eyeballing the mobile phone market and witnessed an opportunity for increased security. As a result, it has developed an iris recognition software that may help ensure undesirables are prevented access from our most cherished communications devices.
Although technical details are still somewhat scarce, the Japanese electronics firm's software prototype is based on its belief that because most mobiles now have built-in cameras, why not harness them to clamp down security on our most beloved communications devices even further. Oki also believes the software could prove useful for PDAs.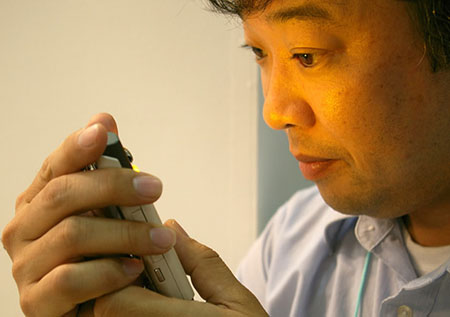 You eyeballing me mister..?!
Oki's software package is based on an iris recognition algorithm that it claims fits around your mobile's camera, without it using up great swathes of your phone's processing capacity. The software itself requires around 200KB of your phone's memory, with around a further 200KB memory when in operation.
The software does require a mobile with a camera ability of at least 1-megapixel, and takes around 0.5s to authenticate an iris, but Oki claims faster checks would be possible with a beefier CPU.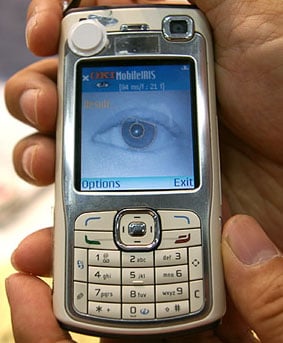 Whole new meaning to eye phone...
The software is compatible with Windows Mobile 2003, XP and Symbian operating systems, the latter of which is commonplace on Nokia handsets including the N70. However, Oki claims it that future compatibility with Linux and Brew may be possible.
Oki expects to begin shipping the software later this month, though availability and pricing is yet to be announced. Watch this space.
COMMENTS
A bit misleading...
The image makes it look like you can do it with the front (videocall) camera. But this is usually a much lower res device than 1megapixel - it's the rear camera that usually has the MPs.
There are a few mobiles out there with swivel cameras, but otherwise, trying to take a picture of your iris without being able to see what you're doing is liable to take a tad longer than 0.5 seconds...
iPhone
If only they could get it working on an iPhone then some enterprising hacker could start harvesting iris scans using the recently publicised exploits and hey-presto! We can all start getting into Steve Jobs's biometrically guarded throne room using a picture of his iris held up to the camera.