Thomson DTI 6300-16 TopUp TV Anytime DVR
DVR meets VoD
If you select all the available channels for Anytime to download from then the box divides up the available drive space in such as way as to leave you with just 16 hours' worth of space for your personal recordings. The only way to free up more room for your own recordings is to reduce the number of channels you want downloading, which rather takes away the whole point of the system to start with, and also is not actually much of a remedy. After pruning the channel download list quite ruthlessly we were still only left with 31 hours of personal space and that is still really not enough.

The Sky-like UI
This box needs a fair bit more disk space or a more fluid method of dividing up the available space, perhaps by allowing you to alter the length of time the system stores downloaded content. As it is, programmes downloaded will erase themselves after six days unless moved into the personal storage - so exit the 31 hours, stage-left, at a gallop - thereby ensuring the hard drive always has space for the following period's downloads.
Fortunately, the box is smart enought to automatically check that no programmes downloaded overnight match any of the programmes already recorded to avoid doubling up on content.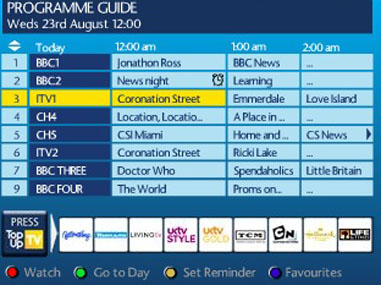 Choose what you want to download
Verdict
Assuming the available content appeals then the DTI 6300-16 is not such a bad old Hector. As a DVR it performs perfectly adequately, though £140 is perhaps a lot to pay for adequacy, perfect or not. If the content doesn't put it's hand up your kilt then our preference would fall with one the of the many other DVRs currently on the market such as the 150GB TVonics box which can be bought for £150 with no subsequent monthly payments.

Thomson DTI 6300-16 TopUp TV Anytime DVR
A decent device, but hindered by a somewhat strange method of dividing up the recording capacity
Price:
£140 plus £10-26 a month for content RRP