Thomson DTI 6300-16 TopUp TV Anytime DVR
DVR meets VoD
As regular software updates for the box come via the TV aerial, our guess would be that it's for firmware updates of some sort due in the future that may - we said may - allow for connection to a PC, something the box doesn't support at present.


Fingerprint magnet?
Overall build quality is fine, though the plastic casing is not up the standards of the TVonics box recently reviewed here and the styling is just a little too run-of-the-mill 1990s domestic tech for our tastes, while the black plastic upper half of the box is a fingerprint magnet that is very hard to wipe clean due to the textured surface.
The supplied universal remote is yet another Sky-type handset and works well enough, but make sure when using the one-touch recording that you hold the button down for a full four seconds. This is too avoid "unintentional recording" apparently.
The row of function buttons on the front of the DVR are rather small and cheap and, unless you lose the remote, pretty pointless. The flip-down cover for the TopUp TV card slot and USB port doesn't bring the word 'longevity' to mind, either. The various LEDs on the front panel seem a little randomly spaced too.
Set up is straightforward enough: just plug in the various supplied cables and follow the on-screen prompts. Once up and running, the user interface is pretty much standard for a device of this type. The EPG is in a rather garish version of the Sky shades-of-blue-and-white colour scheme that, if sometimes with rather unnecessary complexity, allows you access to all the expected DVR functionality such as chase recording, pausing live TV, one-touch recording and series linking, were available.
The channels you wish to access for Anytime download can be selected from a list of icons along the bottom of the EPG, which is a nice design touch. One annoying feature is that when you use the 'channel up' (or down) key or just hit the channel number on the keypad - the programme information box always pops up on the new channel, whether you need it or no.
The DVR's accompanying literature talks of a 14-day programme guide, which on the first day of review was in fact only a seven-day guide, but at noon the next day suddenly became 14. A system update in action, we presume.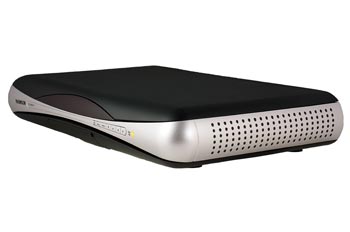 Picture and sound quality up to snuff
In use, the box is near silent while both picture and sound quality are well up to snuff. If this unit does have a problem, it's the way the system divides up the hard drive capacity into two sections, one to store the Anytime downloads and the other to store programmes you record off air.