Wii sales top 3m in Japan
Outsold PS3 3:1
Nintendo has sold more than 3m Wii games consoles in Japan, local games magazine publisher Enterbrain has claimed. Earlier this week, it said Sony had shipped 1.01m PlayStation 3s in the country.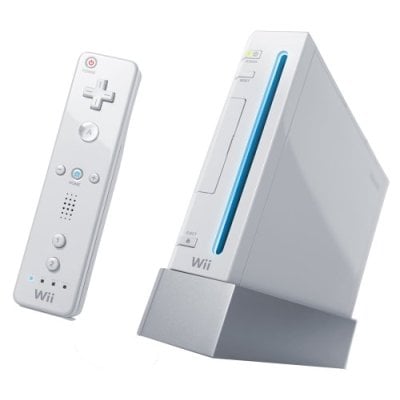 Nintendo's Wii: outsold PS3 3:1
Sony passed the 1.01m mark on 15 July, Enterbrain said. On that date, Japanese Wii sales to date hit 3.01m, as we forecast when we covered the Sony sales announcement. Despite the two figures deriving from the same day, Enterbrain didn't release the Wii numbers when it announced the Sony sales total.
That just leaves the Xbox 360's sales to 15 July 2007 still to be announced, but with sales totalling just 420,705 on 8 July, don't expect any sudden resurgence, particularly now that Microsoft has announced the more capacious Elite model will be coming to Japan next October.
COMMENTS
But...but...but...yes I can!
That was the point,
Fun with numbers!
But.. you can't read!
Now you're being the spin doctor, or just severely misinformed. All the articles claiming the wii outsold the PS3 by 6 to 1 only came out last month, and was only true for last month. Previous months showed other ratios such as 4 to 1 and 5 to 1, but when the wii came out initially, I'm pretty sure the numbers were around the same. You're right though, overall the difference in sales is still 3 to 1, but in some months and weeks, the ratio was 6 to 1. Cheers mate.
Surel shome mishtake?
But...but...but...I thought that it was the fashion to run stories claiming Wii was outselling PS3 by a factor of 6 to 1. Even that nice Mr. Moore who recently fled Microsoft for the safe haven of EA Sports said that Wii outsold PS3 by 6 to 1.
What are we to believe? The actual numbers or the spin doctors? Oh, the stress is awful, how can we possibly decide? Perhaps the media can help, they always report the whole truth. Oh, wait, there's a problem, they're saying 3 to 1, based on real, verifiable numbers, and not the 6 to 1 that is often quoted.
Seriously for a moment though, I read this story with interest because for as long as I can remember this year The Register and most other online tech news sites have been running stories about how the Wii is whacking Sony PS3 by ratios of 6 to 1 or more. Ad yet when the real numbers arrive, it's only 3 to 1. Now, to be sure Sony has a lot of work to do, but 3 to 1 is not quite the same level of spanking that we have been led to believe was happening. Based on the month by month sales since launch, Xbox360 has sold, on average, approximately 20,000 a month. PS3 in the 8 months since launch has sold approximately 125,000 a month in Japan, and the Wii a rather tremendous 375,000 per month. Now, to me that reveals ratios of more than 5 to 1 for PS3 over Xbox 360, 3 to 1 for Wii over PS3 and a bone crushingly bad 19 to 1 for Wii vs the Xbox360. This is averaging total sales since launch over the time since launch.
Fun with numbers!
19 to 1. Excellent.