Vodafone sinks to new low
State of the art HQ disappears under torrential rainfall
"Set in attractive parkland with more than 20,000 trees and shrubs and a series of linked central ponds" is how Vodafone describes their headquarters in Newbury; failing to mention that the building is currently full of water too.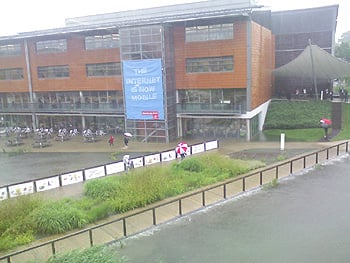 But is it waterproof?
Calls to the office are all being sent to an alternative reception, which is struggling to take messages though staff are managing to stay connected thanks to extensive use of wireless technologies.
With no sign of the rain relenting it remains to be seen how much damage has been done to the "...state-of-the-art office accommodation for some 3000 Vodafone employees", though someone is going to have a busy weekend bailing.
With a month's rain in a day, and no let-up in sight, we can't imagine Voda is the only Thames Valley tech firm contemplating seriously liquid assets at the moment. Send your contributions to the usual address.®
Sponsored: Fast data protection ROI?