Intel Core 2 Duo E6750 2.67GHz desktop processor
Bargain?
PCMark05 likewise confirms the slight gain the 1333MHz FSB brings a boost of a mere percentage point to most tests except Memory, where those extra cycles give you a four per cent increase on PCMark scores. The FSB factor is also highlighted by our SiSoft Sandra readings.
Incidentally, we put the difference in PCMark05 CPU scores between the E6700 and E6750 down to the inherent errors in PCMark05's readings - had we run the benchmarks more time, these errors would be averaged out and we'd get CPU scores for each processor that are near enough identical.
SiSoft Sandra memory results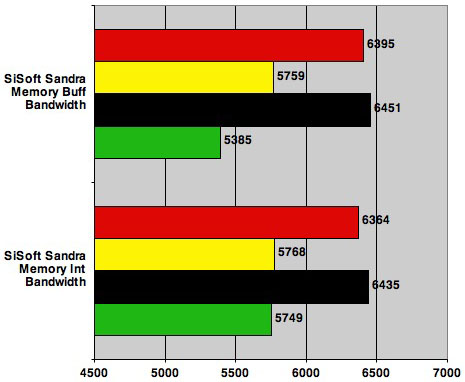 Bandwidths in MBps
Longer bars are better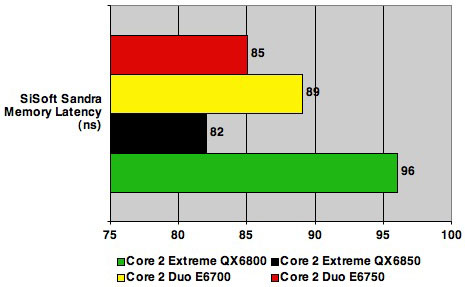 Latencies in ns
Shorter bars are better
When we were testing the E6750 we got the impression that it was throwing off noticeably less heat through the CPU coolerthan the E6700 was. We were using a Zalman CNPS8000 cooler with the fan turned down to a reasonably low speed to keep the noise down.
We decided to investigate further by running Intel's Thermal Analysis Tool. The software monitors the temperature of both cores on a dual-core processor and has the facility to drive the cores at full load. Unfortunately it gets confused by a quad-core CPU so you can't compare the figures for the QX6800 and QX6850 with the E6700 and the E6750 but even so they make for interesting reading.
Intel Thermal Analysis Tool results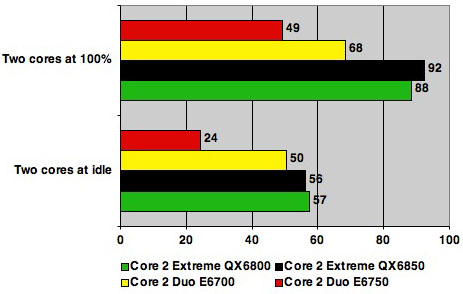 Temperatures in °C
When idle, the E6750 runs 26°C cooler than the E6700 and is 19°C cooler under full load. Those figures are clearly being read from the thermal diode in the processor core so you won't see a 20°C drop in the heatsink temperature, but there is a very noticeable difference in air temperature which is, of course, the reason we ran this check in the first place.
Verdict
The combination of reduced price, increased performance and lower heat output makes the Core 2 Duo E6750 a compelling buy. For the time being we're not sold on the P35 chipset or DDR 3 system memory, but that's fine as we're biding our time and waiting patiently for X38.
Sponsored: Minds Mastering Machines - Call for papers now open

Intel Core 2 Duo E6750 2.67GHz desktop processor
The E7650's 1333MHz FSB doesn't deliver a drastic leap in performance, but given the price advantage why buy anything else?