Ducati storage leaves the starting grid
SanDisk has ripped open the throttle to speed to market a series of memory cards and more as part of a tie-up with Italian motorcycle manufacturer Ducati.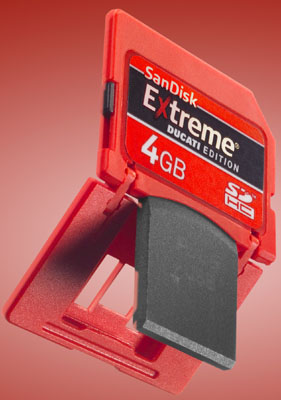 SanDisk's Ducati 4GB SDHC/USB stick combo
First out of the starting grid is the SanDisk Extreme Ducati Edition SD Plus card, a 4GB SDHC model with snap-open connector that allows it to be plugged directly into a PC's USB port, presumably drawing somewhat loose similarities between data transfer and pit-stops.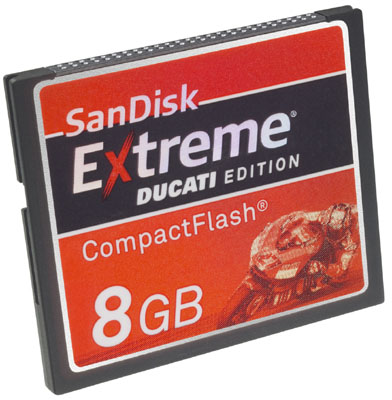 The Ducati CF card
SanDisk has also created 4GB and 8GB Extreme Ducati Edition CompactFlash cards. These two, SanDisk claimed, have the fastest read and write speeds of any products in its portfolio. It said they achieve data-transfer rates of up to 45MBps. Its SD Plus card can reach 20MBps.
The SanDisk Extreme Ducati Edition CompactFlash card is also claimed to be twice as fast as the SanDisk Extreme III card and 5MBps faster than its SanDisk Extreme IV card.
Also new to the track is SanDisk's Extreme Ducati Edition USB Flash Drive, a 4GB drive with a read and write speeds of 20MBps. We thought it looked like a dustbuster, but SanDisk said the product's style on a Ducati fuel tank.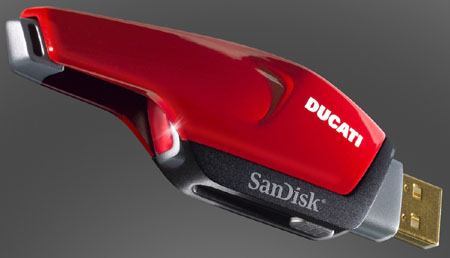 The Ducati 4GB USB drive
Thankfully, it doesn't expel noxious gasses with every data transfer, with SanDisk instead opting for a more eco-friendly red tail-light illumination whenever the drive is inserted into a USB port.
The USB drive comes equipped with safety features though, such as SanDisk's own RescuePRO Deluxe software for recovering deleted data. The drive is compatible with Windows 2000/XP and Vista, as well as Macs, though the software is Windows-only.
Initial sales will be in the US and Europe next month, with prices starting at around $165 (£82/€103) for the 4GB CompactFlash card, $315 (£157/€194) for the 8GB CompactFlash card and $130 (£65/€86) for the 4GB SD Plus card.
SanDisk's USB flash drive retails for $125 (£62/€79) and will also be roaring its way in US and European stores this August.
Sponsored: Minds Mastering Machines - Call for papers now open