LG Touch Me FM37 MP3 player
...sounds like a one-hit wonder from the 80s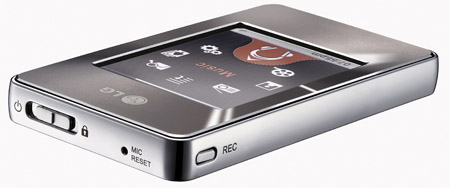 The display is a 2.4-inch QVGA TFT Color LCD touch screen
The photo viewing and movie playback options also deliver a strong package. LG know a thing or two about LCD technology and this unit has one of the best quality visuals we've seen in this category. The FM37 is helped out by LG's own XDEngine processing, which really does help deliver clear and crisp images.
There are also enough picture control options such as adjusting the level of screen brightness so the player can adapt to whatever type of material is being played. In the photo playback suite there are also some nice interactive options available, such as setting a slide show to music - and despite the memory size - movie playback can go up to four hours, helped by the unit's compatibility with MPEG4 (along with WMV, H.264). On the audio front, MP3, VBR, WMA and OGG is supported - but no AAC, and BMP, JPEG and GIF formats for images.
Setting up the player is extremely straightforward. A few mouse clicks and LGs own Media Center software is loaded onto your computer, a few more and all your media files migrate into the software's menu system. The player actually works pretty well with windows media player also, but you will need the LG software for loading movie content. It works on Windows 2000 and XP operating systems and requires Windows Media Player 9 or higher - so sadly no Mac compatibility.
Verdict
Ultimately this is a really friendly little machine and its touch screen operational interface is a particular treat and doesn't feel gimmicky at all. The touch screen approach works so well and feels so natural that perhaps one day all players will shift to this way of operation, perhaps even the next generation of iPod.

LG Touch Me FM37 MP3 player
A top class multimedia player
Price:
2GB model is £120 and the 4GB model is £140 RRP