LG Touch Me FM37 MP3 player
...sounds like a one-hit wonder from the 80s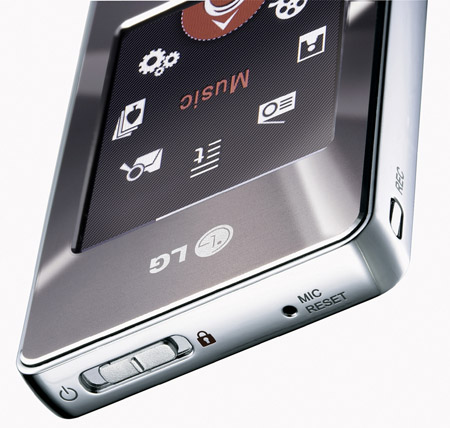 When not in recording mode, the mic port doubles as the reset switch
But this product is no slouch in that department either and can easily hold its own. The icon-based interface is extremely simple and fast to use. In fact, it couldn't be more simple, whether you're choosing between music, photo viewing or movie clips, or selecting a particular file - you simply touch the media category or file you want to interact with.
Navigation is also intuitive with straightforward little exit arrows that let you dip in and out of whatever you are watching or listening to. There is also a handy power down feature that kicks in as soon as the product is left alone for a few seconds and nothing is being played back. Over time this is a useful battery life saver and there is also a good locking mechanism, which means the product can not get accidentally turned on in a pocket or bag, a problem that a surprising amount of similar products have yet to successfully address.
All in all after only a few minutes we found that you could whizz around inside the menus with real speed and accuracy. The other thing about constantly touching the product is that it makes interaction feel more personal and that little bit more intimate. The only drawback is that the 320 X 240 resolution, 260k colour screen can get a little greasy - even at the best of times.