Intel Core 2 Extreme QX6850 & MSI P35 Diamond mobo
Intel's fastest desktop quad-core
Our third set of tests were run with the new Core 2 Extreme QX6850, which uses a 1333MHz FSB to achieve a clock speed of 3GHz so it's only fractionally faster than the 2.93GHz QX6800, while the TDP remains the same at 130W. The increase in FSB means that the clock multiplier drops from 11x to 9x, but the benefits to performance are rather limited.
SiSoft Sandra showed a 12 per cent increase in memory performance while the memory test in PCMark05 came up with a six per cent benefit and a four per cent overall improvement. That's worth having, but most of the increase is thanks to the small increase in clock speed, rather than the FSB.
Performance tests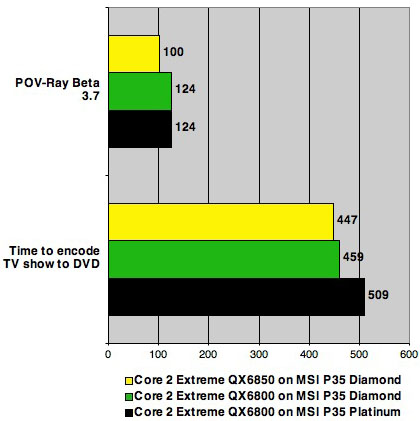 Time in seconds
Shorter bars are better
In and of itself the move to 1333MHz is largely irrelevant. However, this will be the last hurrah for the 65nm 'Kentsfield' core before Intel makes the move to 45nm 'Penryn', when we can expect clockspeed increases to 3.33GHz, 3.67GHz and beyond.
Like all members of the Core 2 Extreme family, the QX6850 sells for a huge amount of money so we'll be comparing the more reasonably priced 1333MHz FSB-friendly Core 2 Duo E6750 with the old-style E6700 on the same MSI Diamond platform in the very near future.
Verdict
The transition to DDR 3 memory and the 1333MHz FSB offers an incremental increase in performance that's a step in the right direction. In that respect, they are very welcome. The problem is that DDR 3 costs a fortune compared to DDR 2. But the 1333MHz FSB is effectively free of charge so if you have a straight choice of 1066MHz or 1333MHz we'd strongly suggest that you go with the new speed.

Intel Core 2 Extreme QX6850 & MSI P35 Diamond mobo
A jewel of a motherboard that uses the P35 chipset and DDR 3 system memory to support Intel's fastest Core 2 processors

Intel Core 2 Extreme QX6850 & MSI P35 Diamond mobo
Intel's new QX6850 processor shows potential with a 1333MHz FSB backed up by the P35 chipset and DDR 3 memory