Intel Core 2 Extreme QX6850 & MSI P35 Diamond mobo
Intel's fastest desktop quad-core
So in this regard the P965 is a step in the wrong direction and the P35 doesn't put us back on track. And it doesn't support Nvidia's SLI, so if you fancy fitting multiple graphics cards, you're looking at AMD's CrossFire or nothing. Or you could wait for the launch of the X38 chipset, which is rumoured to support both CrossFire and SLI with a full 16 lanes of PCIe each.
We started our P35 testing on an MSI Platinum with a Core 2 Extreme QX6800 processor running at 2.93GHz with 2GB of Kinston KHX6400 DDR 2 memory. We used a mediocre Nvidia GeForce 8600 GTS graphics card as we weren't putting an emphasis on gaming ability. If we'd run an AMD ATI Radeon HD 2900 XT it would have simply lifted the performance for each test system, instead of highlighting the differences.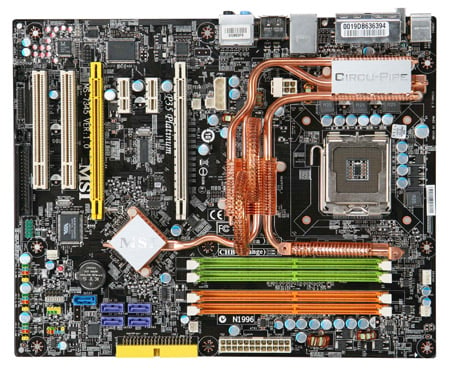 MSI's P35 Platinum: impressive
The results are impressive and would undoubtedly make the basis of a decent PC, but it was time to try some new shiny stuff. We switched the MSI Platinum for an MSI Diamond, which supports DDR 3 memory as well as DDR 2, but looks very similar to the Platinum in every other respect. The layout is fairly standard MSI fare, although the top half of the board is dominated by the Circu-pipe cooling system.
MSI has linked up the four passive coolers on the southbridge, northbridge and power regulation hardware with heatpipes. The passive coolers are larger than normal and the heatpipes are looped round to pack extra length into the limited space. Added to that the heatpipes are finned to increase their surface area.
It's a serious piece of engineering that keeps the motherboard hardware cool. However, the P965 required minimal cooling so we consider this to be something of a negative for the P35.