John Lennon's specs provoke online bidding frenzy
$1.5m and rising, reports claim
A pair of John Lennon's trademark specs, given by the Beatle to a Japanese TV producer back in 1966 and up for sale on 991.com, have reportedly attracted bids as high as $1.5m, Reuters reports.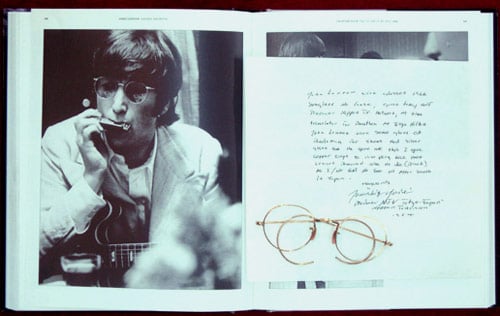 The wire-framed glasses came into the possession of Junishi Yore when he was acting as interpreter for the band. The splendidly breathless blurb explains:
Tokyo. Late June/early July, in the eye of the storm holed-up in the Hilton with cigarettes for company, fancy guitars sprawled across beds and guns keeping the masses at bay, Lennon strikes up a friendship with his translator, Junishi Yore - a guy who finds himself imprisoned with Lennon and the band for the duration of the high security tour Budokan centred Tour.

By the time the Beatles depart Tokyo, John and Junishi have gotten close, they exchange gifts, with John bequeathing Junishi his trademark circular sunglasses, immortalised by Bob Whitaker's portraits and the blaze of media...but then, perhaps Lennon has seen the future.

December 1980. John Lennon is shot four times by Mark Chapman. A devastated Junishi, honouring Japanese tradition, pushes the dark lenses out of the frames with his thumbs so that, in death, Lennon can see. A powerful lament, an incredible treasure; Lennon's life and death radiate from these sunglasses.

A hand written note validates the provenance of these legendary spectacles: 'sunglass no lense, given to my self Producer Nippon T.V. Network, at time translator for Beatles At Tokyo Hilton John Lennon wore same glasses at Budokan for shows had silver glass too he gave me this I gave copper cups to him very nice man lenses removed whe he die (black) as I/we feel he see us after death in Japan Regards Junishi Yore Producer NTV Tokyo Japan Nippon Television 1984'
991.com sales marketing director John Warner refused to confirm the current top bid on the auction, due to end on 31 July, but admitted the sale "has created a bit of a stir". ®
Sponsored: Are DLP and DTP still an issue?