Netgear XEPS103 powerline power brick
Why plug two boxes into the mains when you only need one?
This time, we tried the XE104 with said Squeezebox and a Samsung Q1 UMPC we're using as a very small form-factor music server. Once again, the XE104 was linked over the mains to the Devolo powerline adaptor connected to the N1 router.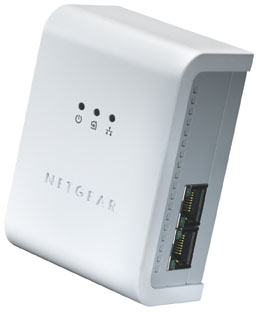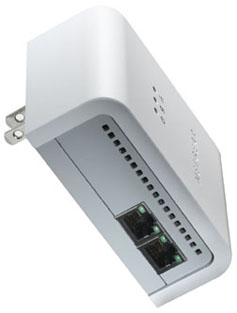 Netgear's XE104: one power socket, four devices
With the two devices connected up and the XE104 powered, they were nicely able to stream songs from UMPC to Squeezebox even when the N1 was turned off - just make sure you use static IP addresses rather than DHCP-assigned ones. With the wirless network operational, we were also able to have the UMPC stream songs to a laptop running Softsqueeze 2.0, the virtual Squeezebox app. The only limit is the capacity of the 85Mbps powerline link, much lower than 85Mbps - more like 20.5Mbps - in the real world.
So are any of these worth having? We have to say yes, they are. The XEPS103's utility is limited to anyone who owns a compatible Netgear router, switch or access point, but since the gadget will set you back around 40 of your hard-earned, which is pretty much what you'll pay for a regular 85Mbps powerline adaptor, why wouldn't you favour the Netgear product and gain a power socket into the bargain? If you have a Netgear router and you also have a powerline network - or you want one - the XEPS103 is a must.
The same is true for the XE104. Powerline's all very well if you have plenty of free sockets, but as more devices come with network ports - next-gen optical disk players, games consoles et al - the ability to network two, three or four of them through a single power socket is going to be essential. And it's only slightly more expensive than one single-port 85Mbps powerline adaptor.
The one flaw, of course, is that they're not 200Mbps products, so they're of little value if you've already made the jump to that speed.
Verdict
Netgear's XEPS103 and XE104 make a pair of very smart space-saving items for folk who've gone for 85Mbps HomePlug-standard powerline networking. Only the fact they don't support the latest, 200Mbps version of technology loses them points, and Netgear's to be commended for charging as little for these products as it does for other 85Mbps products so you don't pay a premium for the tremendous convenience they offer.

Netgear XEPS103 powerline power brick
Too few power sockets to network all your kit? Not now...

Netgear XEPS103 powerline power brick
The perfect space saver: an AC adaptor that does powerline networking too...