HP TouchSmart IQ770 PC
With an IQ of 770, this TouchSmart must be a genius, surely?
The 19in LCD has a native resolution of 1440 x 900 and a 16:10 widescreen aspect ratio, but it also responds to prods and strokes with your finger. This is more intuitive than a mouse when you're clicking links on web pages and also a snap when you want to use the media player. An added benefit is that you can slip the keyboard into a housing in the front of the base unit when it's not in use.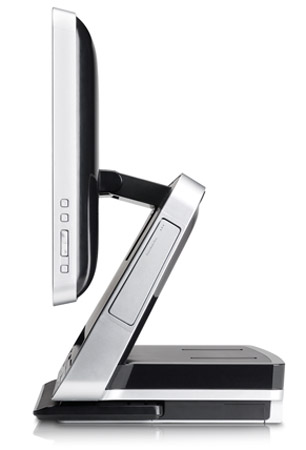 Although Windows Vista Home Premium edition has Tablet PC features the screen doesn't use a digitizer so you can use the stylus that HP supplies in a holder on the top of the screen or you can navigate with your finger. The screen has a hard surface that you can easily wipe clean so concerns about fingerprints can be put to one side.
As a long-time Windows user, this reviewer found the touchscreen was something of a gimmick that served little use. However, a sample of the Nintendo generation that we asked completely disagreed and found it to be fabulous. As HP offers a wireless mouse and keyboard - in addition to the touchscreen and Windows Media Centre remote - you're practically spoiled for choice. The only criticism we can reasonably offer is that you pay a high price for all this hardware.
Well, there's the other criticism: that laptop hardware isn't much cop in the performance stakes, but provided you use the IQ770 to browse the web and to watch movies you'll be perfectly happy. Try playing Oblivion on it and you'll likely have a different view on the matter. And the noise generated by the cooling system can be loud enough to interfere with your enjoyment of movies if the room is quiet, though it's less of an issue if there's plenty of background noise.
Perhaps this is a price you have to pay for housing the power supply neatly inside the base unit, instead of having an external laptop-style power brick.
There's not much in the way of software besides Microsoft Works 8.5, Roxio Creator Basic and the inevitable 60-day trial of Norton Internet Security. Vista includes the Tablet application Windows Journal, which uses the hand writing functionality of the screen for note-taking, and you also get HP's Sticky Notes application so you can write virtual Post-it notes, which is a frivolous use of technology by any standards. But, again, the Nintendo generation love it.
PCMark05 test results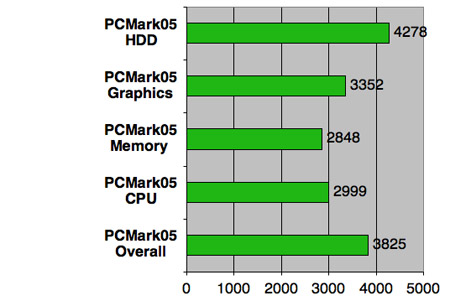 Longer bars are better
The performance of the IQ770 compares quite poorly to a decent Intel Centrino Duo laptop, such as the Evesham Zieo N5-HD that we recently reviewed. However it has all of the oomph that you need for every day tasks such as e-mail and watching TV. That overall PCMark05 score of 3825, for example, compared to the Zeio's 5357. When it comes to 3DMark06, the HP scored 2256, the Zeio 2984.
It's a surprise that the IQ770 is capable of playing modern games as it has a relatively high-resolution screen with plenty of pixels to push. However, we achieved respectable frame rates in Half Life 2 and FEAR: Extraction Point. But if you fancy playing Elder Scrolls: Oblivion, this PC shouldn't be on your shopping list.
Verdict
Either you're excited by the prospect of an all-in-one PC with a touchscreen or you're not. Judging by our experiences, adults will be thoroughly confused by the split personality of the HP, shocked by the enormous weight and unimpressed by the price - a pound less than £1300. But the kids are gonna love it.
Sponsored: Minds Mastering Machines - Call for papers now open

HP TouchSmart IQ770 PC
Take some laptop technology, add a large touchscreen, and you've got HP's latest all-in-one multimedia PC...