HP TouchSmart IQ770 PC
With an IQ of 770, this TouchSmart must be a genius, surely?
In addition, there are three rather more obscure ports. One is a mini jack for a supplied infra-red receiver, another is a mini VGA output, to which you attach a supplied VGA adaptor and the third is a USB port that is located very close to a power terminal and which takes a special cable so that you have the appropriate connections to attach a small HP inkjet printer, which you can sit on top on the IQ770 base unit behind the screen without any need to plug in another mains cable or to have a USB cable drooping down and looking unsightly.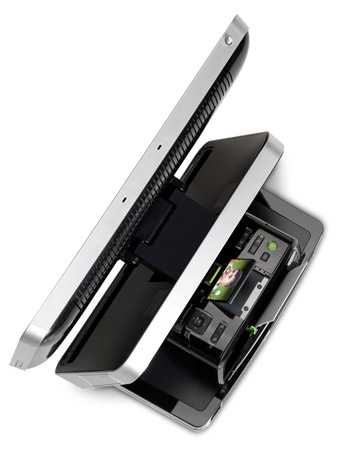 HP TouchSmart IQ770 PC with HP inkjet printer attached on the base unit, behind the screen
The final connector on the base unit is an RF port for the integrated analogue and digital TV tuner, which works superbly well in conjunction with Windows Vista and the large screen.
It's clear that HP has worked hard to make the base unit small and compact, although it loses something of the neatness once you plug in the various adapters and cables. If you use a wireless connection to your router you can get away with just a single power cable and a TV aerial cable, which is just about as wireless as you could wish. Above the base unit is the 19in TFT touchscreen which we'll come to in a moment, and between the two is what we can only describe as a slab of grey and black plastic.
It's a huge unsightly thing that acts as a mount for the moving arm that supports the screen and which also acts as a drive bay for an HP Pocket Media Drive. An 80GB removable drive costs £65 and while there's no harm in adding a drive, we can't help but think that the design could have been done more elegantly. The Apple iMac anglepoise design is a case in point.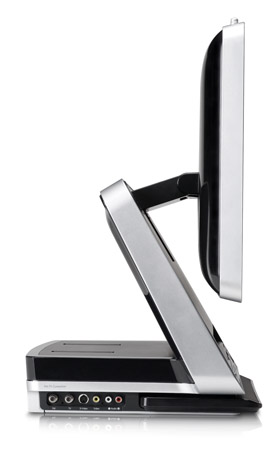 HP has instead gone for battleship engineering, and we were shocked to find that the IQ770 weighs a whopping 17.3kg. This means that you'll be plonking down it in your kitchen, living room, study or wherever and never moving it again. It's far from portable, which is a crying shame as a combined PC, TV and media centre that uses a minimum of cabling is the sort of device that could reasonably have more than one home.