Datawind PocketSurfer 2 handheld web browser
Mobile internet for free - or just like the proverbial lunch?
Datawind also promises the PocketSurfer 2 delivers a "real, desktop web experience", which might sound impossible when you consider the size of the device and that it connects via GPRS. GPRS was chosen because it's cheaper and less power-hungry than 3G, and it's miniscule bandwidth is rendered - Datawind claims - irrelevant by its server technology.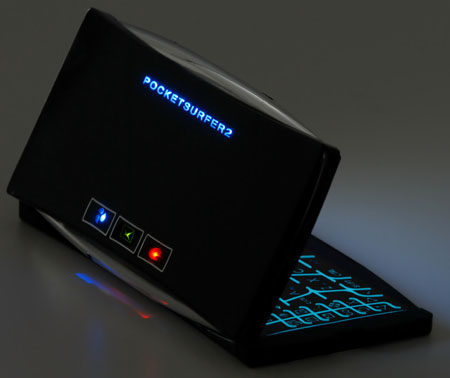 Datawind's PocketSurfer 2: where do you want to glow today?
Essentially, any website viewed on the PocketSurfer 2 is first stored on Datawind's server then crunched to allow as little data as possible to be send over to the device. That makes it fast and keeps Datawind's data costs down, making for a cost-saving it passes on to the buyer in the form of the 'free' web access.
Of course, that makes it cheap, but it also means the device has no life beyond Datawind UK. The company will allow you to roam with it, but that costs extra and last night it wasn't saying how much roaming will cost.
So how well does the PocketSurfer 2 perform?
Ahead of a full review, coming in due course, we give the PocketSurfer 2 a quick spin. Page loading speeds depend largely on what Datawind's server has cached. Sites the company has been demo'ing, like the BBC, the Financial Times, Google and so on are indeed very fast - much quicker than we've seen on other GPRS-connected handhelds. Sites loaded for the first time, such as our own, aren't so rapid and, we found, presented highly-dithered images.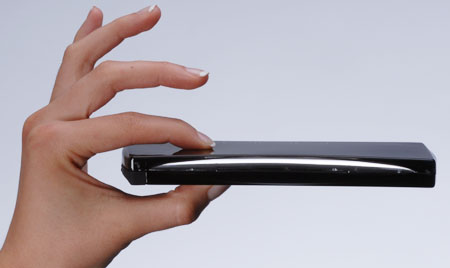 Datawind's PocketSurfer 2: skinny
In part, that's due to the PocketSurfer's screen-quality, which isn't the best we've seen by a very long chalk. Its brightness and contrast are adjustable, but it lacks verve - the colours are pale, the backlight weedy. But it's also the transmission process. That said, some of the images did refresh later with better quality versions, suggesting Datawind sends out better pictures once the page has loaded.