Datawind PocketSurfer 2 handheld web browser
Mobile internet for free - or just like the proverbial lunch?
First look Canadian company Datawind unveiled its second-generation PocketSurfer handheld gadget for web browsing, and while its pledge that the device brings with it fast wireless access for free stretches the meaning of the word, it comes pretty close.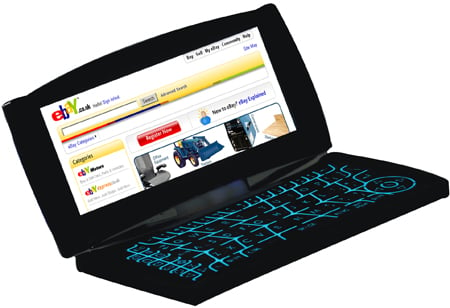 Datawind's PocketSurfer 2: eBay on the move?
First, the hardware. The PocketSurfer 2 is a slim 174g clamshell device not unlike a Nokia Communicator. Clad in shiny black plastic - perfect for presenting fingerprints, alas - with a chrome-like hinge, the device measures 15.2 x 7.5 x 1.5cm when closed.
Opening it reveals the (weakly) backlit 640 x 420 display and a flat QWERTY keypad that's not touch-sensitive but simply mounted above an array of contacts. While that's not a problem when it comes to entering website addresses, it does make navigating around the page more clumsy than it could be. More of which later.
The unit accesses the cellular network directly over a GPRS link, and here the PocketSurfer 2's hardware starts to blend into Datawind's service. First, the network. We understand Datawind's working through Orange, but it's operating as a virtual network so the user has no direct connection to the carrier. If Datawind can get a better deal from, say, O2, it'll shift accordingly and the PocketSurfer 2 users need be none the wiser. The gadget's SIM is embedded right inside the handheld, so it can't be removed, Datawind said.
When it goes on sale in the UK in early August, the PocketSurfer 2 will retail for £180. That includes 20 hours a month's surfing free of charge. Bust the limit and you'll be allowed to surf no more until the following month unless you avail yourself of Datawind's £6-a-month unlimited access package, 'fair use' policy attached.


Datawind's PocketSurfer 2: slimline surfing
So yes, once you've coughed up for the hardware, surfing comes for free in the first year, provided you stay within the 20-hour limit. In year two, Datawind will expect a further one-off payment, though as yet it can't say how much that will be. No more than £40, it promised, hinting at the potential to go lower if it makes sufficient money from sponsored links - it's other key revenue source - and signs up plenty of punters.
COMMENTS
Can I get text off it?
Any file storage locally, and can I get text files off the thing? Like a mini-alphasmart? That would be useful. Without wifi I can't see me using the Web bit much.
Hmmm, no wifi == no sale
Put Wifi in this unit so I don't have to pay a monthly fee on top of my ISP charges, and it's a winner. As it sits, however, it looks like more yuppie bling to me - mostly useless flash, intended to impress one's equally-shallow friends. I'm sure Paris Hilton will have one as soon as she can get it.
N800 or 770 instead?
It's no competition for an N800 Bluetoothed into a 3G handset then. Even a 770 will give it a run for it's money by the sound of it, especially when Expansys are selling the 770 for £65.
It's cheaper, but you get much, much less. You can't do voice or voice over IP, no local applications, out of Orange coverage it's a doorstop.
Alan.