Netgear Storage Central Turbo SC101T network storage box
SAN not NAS, OK 4 U?
We didn't perform speed tests with this product because it all depends on the drives you use and how they're configured. The drives we used are a year behind the times and weren't the same specification as those in NAS boxes we've tested in the past, so again, speed tests wouldn't yield meaningful information. That said, it's not too nippy when run in mirrored mode, though read-backs felt as quick as similar units we've tried.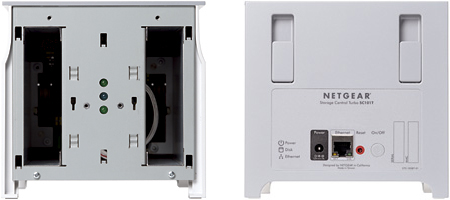 Netgear's SC101T: front off, and round the back
What we can say is that with the drives formatted and the access software in place, using the SC101T's storage is straightforward, whether you're copying files back and forth, or using back-up software to do the transfers. The SC101T relies entirely on your router's DHCP server to get IP addresses for the drives - there's no manual addressing - but the access software easily coped with changes to the drives' IP addresses, which is handy if you like to power-down all your infrastructure overnight.
If you want a simple file store available to any or all of the PCs on your network, Netgear's box is ideal. And it's quiet, as these things go.
If, on the other hand, you need something a little more sophisticated, you're not going to like the SC101T. Unlike NAS boxes, which are, to all intents and purposes, small PCs with big hard drives, the SC101T has no native operating system, which means you can't install and run any apps on it. So while you can, say, use it to hold your music collection, you can't serve your songs from it. Nor can you expose it to the internet, to enable remote access, whether by FTP or some other protocol, directly or through a Virtual Private Network (VPN).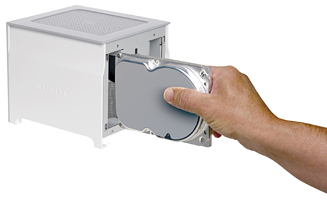 Look, ma: no screws...
Incidentally, the SC101T isn't Netgear's first SAN box. That honour goes to the SC101, still available for around £70 - £50 less than its £120 big brother. The catch is that the older model only takes slower IDE hard drives and has a 10/100Mbps Ethernet port to the SC101T's 1000Mbps connector. But unless all your wired network links run at that speed, Gigabit Ethernet is no advantage over 100Mbps. Worth a look if you're on a tight budget.
By the way, 320GB 7200rpm 3Gbps SATA drives can be had for around £60 a pop, so kitting out the SC101T isn't exactly expensive
Verdict
Netgear's Storage Central Turbo SC101T is a smart way to provide basic network-accessible storage space without having to muck about with file-sharing, firewalls and passwords. Its buy-your-own-drives approach means you can tailor it to your budget and capacity needs safe in the knowledge it'll be upgradeable down the line. It's a doddle to use, but its advanced features aren't as useful as they could be.

Netgear Storage Central Turbo SC101T network storage box
Simplicity's the name of the game here, which explains why its advanced features aren't as good as they could be