Netgear Storage Central Turbo SC101T network storage box
SAN not NAS, OK 4 U?
We happened to have two hard drives handy: a 150GB model and a 400GB unit, both from Western Digital. The software allows you to mirror the contents of one drive on another for a modicum of data security - if one drive goes up the Suwannee, you still have the other, with all your files intact. Using the Netgear software, we split the 400GB drive into two partitions: one to mirror the contents of the 150GB drive and the other as un-mirrored space. Ideally, you'd use two drives of the same capacity for this kind of configuration, but the approach we took shows how flexible the set-up can be.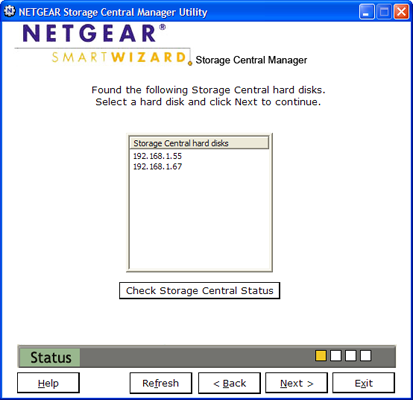 Er... which drive is which, please?
We should point out that this wasn't our first configuration - initially, we formatted both drives as separate, single-partition entities. We mention this because changing the configuration was a little tricky, involving 'deleting' the drives first then setting up the 400GB drive before, mirroring one partition to the 150GB HDD, then establishing the second, unmirrored partition. There are several steps here that Netgear's software could perform automatically to make life easier for the person managing the SC101T.
Indeed, the management utility is the weakest part of the SC101T package. The Netgear unit is aimed at consumers, and it wouldn't take much work to make the utility much more consumer friendly. The Wizard could actually work like a wizard - in fact, it presents just a simplified sub-set of the settings listed under the "Advanced" option.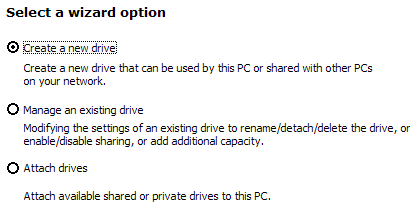 The SC101T's 'Wizard' versus...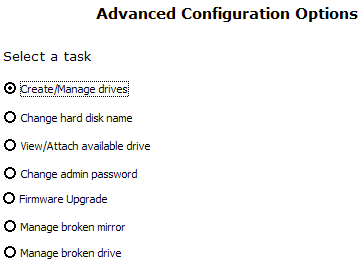 ...its Advanced settings
Recovery from a disk failure isn't automatic. If a drive gives up the ghost, the SC101T's LEDs will tell you which one it is. Powering down and removing the offending hardware is easy, but to get back to where you were, you have to duplicate the good half of the mirrored array, delete it, recreate the data store and its mirror on the two drives and then finally copy back all the data. Phew.
While that's better than losing all your files completely, and might be a run-of-the-mill activity for IT professionals, it's not exactly a consumer-friendly process. It assumes you have a third drive big enough to take all the data on the surviving drive, which, since the SC101T is likely to be your back-up system, you probably don't.