Netgear Storage Central Turbo SC101T network storage box
SAN not NAS, OK 4 U?
Is one approach better than the other? Maybe to a big-business IT manager, but in the home, there's probably not a great deal in it. SANs are supposed to be faster and more reliable than NAS set-ups, but whether you'd see such a benefit in the home or small office is open to question. However, there are differences even here, though they're subtle. The extent to which they affect you will depend on what you want the storage for, as we shall see.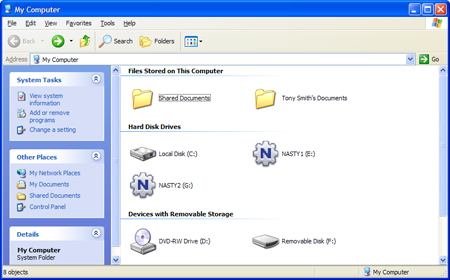 The SC101T's drives appear as if they were external HDDs
The main advantage of the SC101T over a NAS box is that it appears in Windows' "My Computer" window just like an external hard drive and is immediately available to you and your applications. Not on the network? Then the drive icons are hidden. That makes it very easy to access once it's been set up - just double-click on the icon and there's your storage space. Compare that to a NAS box, where you have to explicitly create a link between Windows and the storage unit, which will then appear as a 'mapped' hard drive. User accounts need to be set up and provisioned with passwords.
The SC101T has passwords, but they apply to the drives directly rather than to users. But we're getting ahead a little, so let's go back to the set-up process. The SC101T uses SAN technology from Zetera, but the software is custom-branded with Netgear's name. The installation adds all the software your PC needs to read the proprietary Zetera File System the SC101T's hard drives will be formatted with, along with a drive management tool that will need to be installed on every PC you're going to connect to the SC101T.
And Windows XP PCs at that: there's no Mac OS X software, there's not even any Vista software - yet. Zetera told us it has pre-release versions of Vista and Mac code ready, and Netgear said it expects to make the Vista beta software ready for downloading in a couple of weeks, with a final version due late August. The Mac drivers will follow the Vista release.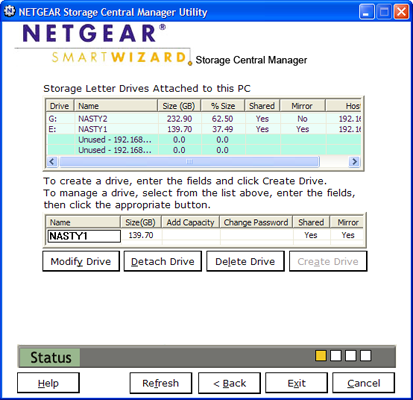 With the software installed on the first machine, setting up the drives is relatively straightforward: just follow the wizard. Each disk appears as a separate network entity with its own IP address, which is a little confusing if you're used to disks rather than networks. Netgear and Zetera could go a lot further to hide away the techie stuff to make the SC101T easier for non-tech-heads to set up.