Alleged Apple ultra-thin MacBook rumour restoked
Apple's much-rumoured ultra-skinny MacBook Pro sub-notebook has reared its Flash-filled fascia again, this time in a story suggesting the unit will sport a 12.1in screen and less than three-quarters of an inch thick.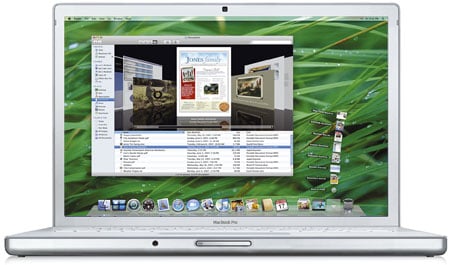 Apple's 'MacBook Mini'? How it might look
Beyond that, MacScoop's report has little to add. Its mole maintains the svelte laptop could appear by the end of the year, slightly better than the 2008 timeframe previously claimed.
If this thing exists, our money's on a Macworld Expo unveiling in January 2008, the usual venue for major new Mac announcements. As we've noted before, the laptop's unlikely to be made available before the arrival of Mac OS X 10.5, the obvious starting point for any new Mac OS technology needed to support the sub-notebook's rumoured Flash hard drive.
We first reported on the 'MacBook Mini' in April after American Technology Research analyst Shaw Wu wrote and told investors that "Apple would like to introduce the product in H2 2007".
'Like to' and 'will' are to very different things, suggesting the Mac maker's playing this one cautiously, following the NAND Flash price descent curve closely for the point at which it feels it can offer a decent amount of storage capacity - 64GB minimum, we'd venture - at a price Apple's buyers will accept.
COMMENTS
January 2008
January's Macworld Expo is a definite maybe.
Neil Anderson
http://www.cyclelogicpress.com
Deja Vu
With last year's MacScoop's story, its sources were trusted and reliable, evidence came there none.
I was amused to see that the site proudly notes it was the first to report on this mythical product and has basically blown the cobwebs off an unsubstantiated report and republished it adding very little, as you say.
But I guess, if they just keep repeating themselves they'll get it right one day.
I certainly wouldn't bet one way or another whether this product is in the pipeline, but I know there'll be more than a few fanboys in the forums loudly proclaiming that they're holding off a purchase until this machine is released... so on that score, I hope the reports are just smoke and mirrors.