Albatron reinvents graphics card as Blu-ray booster
Nvidia GPU handles the HD lifting
Here's a novel idea: take a regular graphics card and re-style it as a Blu-ray Disc decoder for machines that already have their own, integrated graphics card. That's what board maker Albatron's done with its latest offering.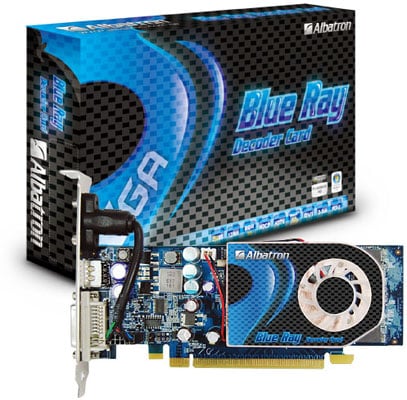 Not a graphics card, an HD video decoder card, OK?
The what-is-says-on-the-tin named Blu-ray Decoder Card is a low-profile PCI Express add-card with an Nvidia GeForce 8500 GT clocked at 450MHz and 256MB of DDR 3 memory set to 800MHz. There's a dual-link DVI port and and s-video HDTV output on the back.
As such, it's a standard 'green' graphics card re-clad in blue. So in addition to doing all the video processing Blu-ray requires, it'll accelerate games and other 3D apps too, and it's fully compatible with DirectX 10 - handy for Windows Vista.
Alas, Albatron didn't say when the Blu-ray Decoder Card will go on sale or how much it's likely to retail for.
COMMENTS
Nice Idea, But ....
So if you take blu-ray out of the name all you have is a standard Geforce 8800 GT card. If you get a better graphics card to the one you already have its suppose to accelerate games and make the graphics smoother and faster. As for DX10 compatible, I thought that the Geforce 8 series would already be DX10 compatible.
I'm at a loss what more does it do than an ordinary Geforce 8800 GT?