Sony's 80GB PS3 pic points to rumble-ready controller
Shaking SixAxis
Sony's announcement that it is to release an 80GB PS3 in the US next month has sparked fresh rumours that it intends to incorporate a rumble feature into its SixAxis wireless game controller.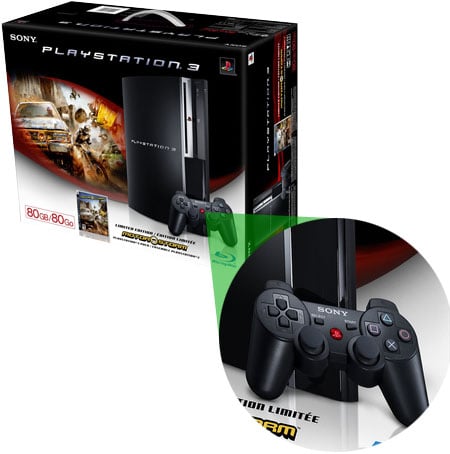 Sony's 80GB PS3: ready for a rumble?
The rumours stem from a picture of the design of the 80GB PS3's box, which was released alongside Sony's announcement, and which shows the controller with an illuminated red button in the centre.
On Sony's PS2 controller the equivalent of the red button, a square LED, was used to indicate the operation of its rumble capability, which makes the controller... well... rumble in time with gun shots, car crashes, etc while playing a game.
Sony has yet to comment on the presence of a rumble feature on the 80GB PS3 controller, but some gamers are speculating the feature, also referred to as Touch Sense, will be an improvement on the PS2's rumble capabilities by making its vibrations more akin to what's taking place on screen.
For example, this could mean that if a gun was fired on screen then the controller will respond with a short sharp jolt, but when driving a car over rough terrain then the controller will provide varying levels of vibration.
Some cynics have previously suggested that until now Sony left out any rumble feature in the handset because of a then ongoing lawsuit with vibration technology firm Immersion, but the dispute has now been settled. So, watch this space...
Sponsored: Minds Mastering Machines - Call for papers now open