2in-thick aluminium iMacs to ship in August?
Apple's anticipated aluminium iMac will be a mere 2in thick when it hits the shops in August, it has been claimed.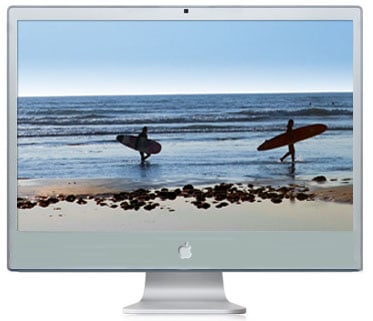 Apple's Al iMac - artist's impression
According to a ThinkSecret report, the new iMacs will be based on the same components and interior design as the latest MacBook Pro laptops.
Now, since the 17in MacBook Pro is just 1in thick when closed, it's not hard to conceive of Apple taking one, flipping round the LCD, adding some extra chassis to improve the unit's rigidity and to anchor the stand, and calling it a new iMac. It could go a little thinner than 2in, surely?
In fact, we look forward to reading in the near future about a clever case-modder who's taken a MacBook Pro and remade it as a desktop machine.
Of course, it's claimed - and has been for some time - that the revamped iMac line-up will no longer incorporate a 17in model, but the idea's the same even with 20in and 24in LCD panels.
On the basis of the MacBook Pro link, expect the new iMacs to come in a choice of 2.2GHz or 2.4GHz processor, up to 4GB of 667MHz DDR 2 memory; at least three USB ports; a Firewire 400 port and possibly an 800Mbps one too; Gigabit Ethernet; 802.11n Wi-Fi and Bluetooth 2.0.
Sponsored: Minds Mastering Machines - Call for papers now open