MS makes date for Xbox Elite Japanese debut
Having a tough time competing with Wii, PS3
There's still no word on the Xbox 360 Elite's UK debut - we know nothing, the reps claimed again - but the none-more-black games console will be coming to Japan on 11 October to give - Microsoft hopes - a much needed boost given its June sales performance there.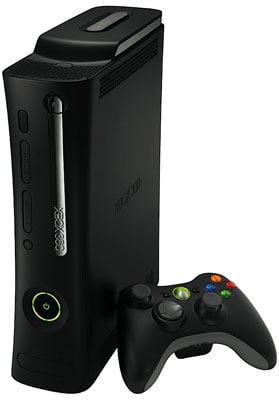 Xbox 360 Elite: big in Japan?
The Elite was launched in the US in April, packing in a 120GB hard drive and an HDMI port into its beetle-like carapace. The console can pump out 1080p HD pictures thanks to the general Xbox 360 update Microsoft released earlier this year, and it'll upscale DVDs too.
The Elite retails Stateside for around $480. Japanese gamers will pay ¥47,800, Microsoft said - which converts to $390, €286 and £193, give or take the taxman's cut.
Microsoft needs a lift in Japan. Figures from local market watcher Enterbrain show some 122,565 Xbox 360s were bought in the first six months of 2007, compared to 503,554 Sony PlayStation 3s and a whopping 1.78m Nintendo Wiis.
When it comes to the Japanese market at least, the Wiis clearly have it.
COMMENTS
xbox elite price in USA cf UK
bestbuy.com list the xbox elite at about GBP240+ tax, so lets say 280 inc. According to Game, a std UK xbox is that price.
we are still getting screwed!
Size
Maybe the PS3 and XBox 360 are losing in Japan out due to their form factor and controller?
The Wii is very small and the remote is innovative. It's a fun console and those predicting a demise due to the novelty factor wearing off are missing the sales volumes. You simply won't see a console dying off when it has a massive user base.
I don't need amazing graphics to have fun, just like I don't need tons of special FX in a film to enjoy it. Films need a good plot and story, computer games need good gameplay and fun!
Too many console games try to simulate football and driving games as realistically as possible, but why? it will never be realistic until you feel G-force and feel the wind blowing past you.
Many Wii games on the other hand don't try to be realistic, they try to be fun. Mario Strikers Charged Soccer is a fun football style game (it's like a blend of Speedball 2 and Football) and totally unrealistic. So is Excite Truck, 4x4s flying 30ft in the air and driving at impossible speeds, but it is a lot of fun.
wait till it hits the uk
we already pay £280 for the white 360 with the hard drive, we'll probably get charged over £400 IF it ever comes here...