Sleek and stylish - ladies and gents, please welcome the iAudio 7
It's got the dimensions of a mobile phone and even some similar looks, and now Cowon's latest digital music player, the iAudio 7, is available in to UK-based buyers.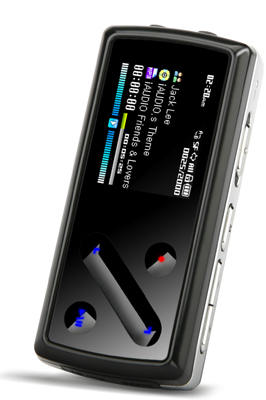 Cowon's iAudio 7: %-style control, anyone?
The iAudio 7 comes with a choice of 4GB or 8GB Flash song storage and tracks are loaded onto it via USB.
Measuring 7.6 x 3.5 x 1.9cm and weighing 53g means it's certainly not the smallest portable audio device on the market. But its piano-black front and back panels help to give it a meatier look than the all-hallowed iPod.
Tracks are selected/paused/stopped by sliding your thumb over stylish percentage mark-style control array, placed below the 1.3in display, using what Cowon calls "Swing Touch technology". Sounds like a slim touchpad to us, not dissimilar to the ones found on Creative's Zen music players.
The iAudio 7 is both PC and Mac compatible and supports a range of formats, including MP3, WMA, lossless Flac and the Linux-friendly Ogg. Its battery life is strong, coming in at 60 hours' playback, but the full charge time via USB is just under four hours, so no good if you're in a hurry.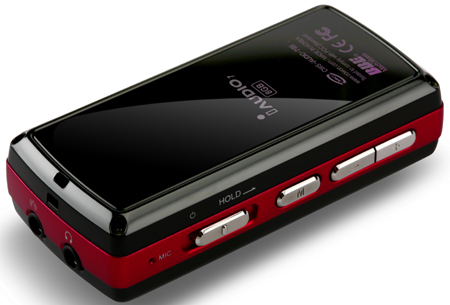 Cowon's iAudio 7:piano-black back
If you're not sure what to listen to, then plug your headphones in and browse the FM band until something takes your fancy. And if you really like what you hear, the radio show can be recorded in WMA format.
Cowon didn't make clear if pre-set stations are a possibility though, but five pre-defined equaliser options are, including rock and jazz.
And should you get bored of that, you can even browse through JPEG photos, which can be loaded onto the player via USB, or watch videos in MPEG-4 format.
The iAudio 7 is available now from UK retailer Advanced MP3 Players in black or red versions, with the 4GB version priced at £110 (€162/$221) and the 8GB version priced at £150 (€221/$302).
Sponsored: Minds Mastering Machines - Call for papers now open