How hot is your Xbox 360?
If you're the type of gamer who thinks dangers lurk behind every corner, then a heat-sensitive casing for the Xbox 360 should go a little way to allaying your fears about it spontaneously combusting.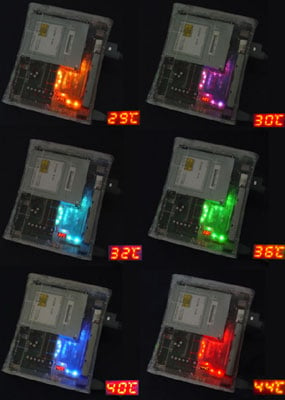 Xbox 360 Hot Rock case: what colour is yours?
While the Xbox 360 Hot Rock Case may not actually cool your Xbox during game play, it does include a digital LED thermometer to monitor every four degrees of temperature change and alert the user by changing the case's colour.
The colour indicators range from orange for when the console's inner temperature is below 29°C to green for between 36°C and 39°C, and finally flashing red for when it exceeds 48°C.
Obviously the ability to actually cool your Xbox, like Dell uses within its XPS 720 H2C Edition gaming desktop, would a better selling point. But giving you enough time to be able to keep playing right up until it's about to explode with the ferocity of a solar flare is just as good, we suppose.
The Xbox 360 Hot Rock Case is available here now, but pricing is yet to be announced.
COMMENTS
Re: Nyko Cooling for xbox 360
Avoid this product it vibrates and causes discs to scratch
color cycle is wrong
Since this is a set of LED, shouldnt they have tried to make them go through the range in order of "coolest" to "hottest" colors?
Orange, purple, light blue, green, blue, red does not IMO lead to a good visual impression of heat.
An order like purple, blue, light blue, green, orange, red IMO is a better progression for showing a rise in temp, you get a rise in color.
A blinding array of white LEDs light should be reserved for when it goes nova.