Asus overclocks graphics card for 37% performance boost
And prepares to split into three separate companies
Gamers might want to hold tightly onto something at this point, because Asus has launched an Nvidia GeForce 8500 GT-based graphics card capable of running at 600MHz.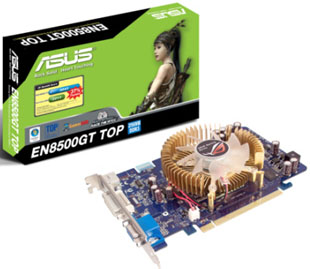 Asus' latest offering, the EN8500GT TOP, boosts the GPU's clock frequency from a standard speed of 450MHz. That, in turn, increases the 3DMark06 benchmark score from 2211 to 3043. The vendor proudly purported this as equal to a 37 per cent increase in performance over any other board on the market.
The board also packs in 256MB of GDDR 3 memory, connected across a 128-bit bus and running at 700MHz for an effective speed of 1.4GHz. The card has a VGA, DVI ports and an s-video HDTV connector.
Such an increase in performance will undoubtedly cause an increase in heat, and so Asus has also designed a fan-based cooling system capable of lowering temperatures by 18°C, as compared to standard specification boards from the rivals.
The EN8500GT TOP works at a maximum CRT resolution of 2048 x 1536 and will, for the time being at least, come bundled with the Official World Touring Car Championship game Race the WTCC.
The EN8500GT was announced just a few days after Asus - or AsusTeK, to use its official moniker - announced that it plans to split into three different entities from January 2008. The move is designed to make Asus more competitive.
Asus' branded business will not change, but its ODM operations will come under the name Pegatron, which will specialise in PC-related equipment, and also Unihan, for casings, modules and non-PC products. Pegatron and Unihan will remain wholly owned by AsusTek.
Sponsored: Minds Mastering Machines - Call for papers now open