ZyXel NSA-2400 network attached storage box
Four-drive central storage for your LAN
Plug the machine in, hook it up to your network - in our case, the Register Hardware wireless router - turn it on and, after a minute while it starts up, you're ready to go. All the NSA-2400's configuration options can be accessed through a web browser, so it's easy to manage on a cross-platform network. Well, almost. If your router automatically hands out network addresses, you'll need to run ZyXel's NSA Discovery Utility to sniff out the box's IP number so you can type it into your browser. Unfortunately, the utility is Windows only.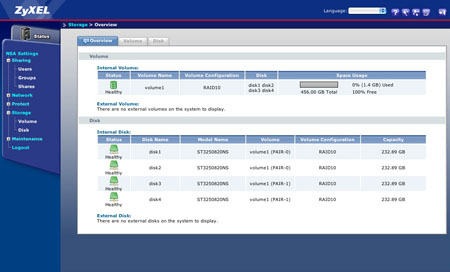 Zyxel's NSA-2400: drive status screen
Click for full-size image
You can, of course, administer the NSA-2400 using more Windows-only software, but we chose to do it through the browser. This displays the customary status display, along with, on the left-hand side of the screen, hierarchical menu access to the various groups of settings: users, the network, the drives, back-up and maintenance.
However, you're more likely to set up the NAS box by running the set-up Wizard, which guides you through the basics: configure how the NSA-2400 connects to the network, set up the drives, decide whether you want to enable FTP access, choose how the NSA-2400 logs problems - and whether you want it to email reports, set the server's clock, and finally add users and groups.
You'll need to access the settings directly if you want to set up things like back-up routines - to back up the back-up to another NSA-2400 or an external hard drive, if you have one big enough - save data change snapshots, make a copy of the configuration files and so on.
The browser screens are well laid out, but we found them frequently slow to load, leaving us wondering if anything was going to happen.
Assigning private space to named users is straightforward. You can give each of them a quota, though the NSA-2400 will happily let you assign more storage than it has available. You can also set up public and shared folders on the NSA-2400, and again that's easy to do. Sharing is handled using SMB/CIFS.
Disk setup can only be run through the Wizard, which makes sense since you're probably only going to want to do this once. Thoughtfully, ZyXel separated the drive and the system set-up into two Wizards - though the latter will invoke the former if you want it to - making it easy to change the drive configuration without running through the complete set-up process. That said, the Wizard doesn't automatically recreate users' private spaces after you've reconfigured the drive, leaving you to add all these back manually. User and Group data is retained.
Sponsored: Minds Mastering Machines - Call for papers now open